London 2012: Athletes must fight for place - Steve Cram

By Steve Cram
BBC athletics commentator
Last updated on .From the section Olympics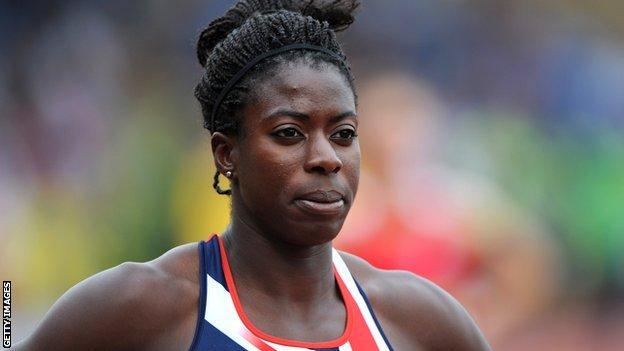 If I were British athletics head coach Charles van Commenee, I'd be delighted with the way the start of the season has gone.
Reigning Olympic 400m champion Christine Ohuruogu opened her campaign with a solid 50.93s run in Jamaica and Andrew Pozzi sprinted inside the top Olympic qualifying time in the 110m hurdles at the test event at the Olympic Stadium (13.52s).
Meanwhile, Sophie Hitchon extended her British hammer record to 71.61m in the United States and Greg Rutherford equalled the British long jump record of 8.35m.
This early in May you wouldn't normally see this many 'A' standards - the top qualifying time needed to meet Olympic requirements.
But the Brits are hell bent on getting that 'A' standard. And that will continue in the run-up to the trials on 22-24 June.
I shouldn't be surprised that many of the British athletes are out early in the season putting in good performances. They're not hanging around. Once they get that 'A' standard out of the way, they can concentrate on finishing in the top two (which is required to meet automatic qualification standards) at the trials.
You're going to have quite a few athletes, relatively unknown to the public, who will be selected for the third qualification spot, namely young people coming in at the right time and raising their games.
They'll be unlikely to win medals at the Games, but just getting into Team GB is massive incentive for them. One or two established stars might just be looking over their shoulders thinking, 'I'm going to have to be on my game, here'.
For example, in the 110m hurdles, you've got Will Sharman, Andy Pozzi, Lawrence Clarke, Andy Turner, but the more established stars like Turner or Sharman could be the ones missing out this summer.
You can't just walk into the team for London; you really are going to have to fight for your place. I think it's great seeing second-level athletes like Pozzi and Lawrence stepping up to top level and putting those people under pressure.
Understandably, people want to be on the Olympic team and that's made them really focus. No-one will say: "OK, you've got another two weeks to reach the set standard." There are no second chances. While Charles has had a hand in pointing that out to people, it's really down to the coaches - they're working with the athletes on a day-to-day basis.
Just like an England football manager wants his players from Manchester United or Manchester City, or wherever, to arrive as conditioned and healthy as possible, so too does Van Commenee; that's why he's telling people to drive their standards up. And, looking at how things are progressing this early in the season, I think we're a little bit ahead of schedule.
People want to keep away from that pressure situation so have targeted early-season performances. They don't really mind about their results. They don't really mind about coming third or fourth or whoever beats them. It's all about the mark or time.
Our bigger names like triple jumper Philips Idowu and distance runner Mo Farah will be expected to come out and perform in the Diamond League, which has its first meet of the season on Friday. Some may choose to compete at smaller meets where they can be competitive, but the Diamond League events are likely to be a higher standard of competition - which is ideal if you're chasing a particular mark or time.