Jenna Randall & Olivia Federici lead GB Synchro squad
Last updated on .From the section Olympics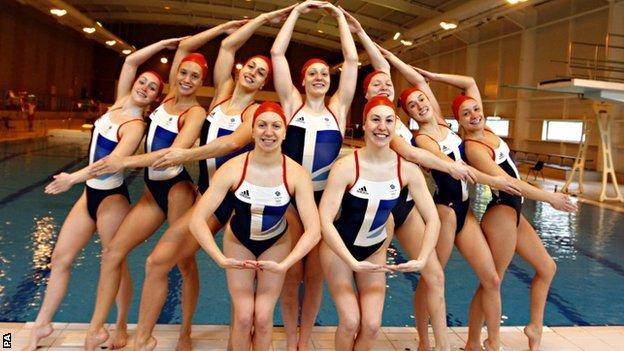 Jenna Randall and Olivia Federici are among nine synchronised swimmers selected to represent Team GB at the London 2012 Olympics.
Randall and Federici finished 14th at their first Olympics in 2008 but are now ranked inside the world's top 10.
The other seven, including Jenna's sister Asha are making their debuts.
"This group of athletes have recorded some impressive results in both the duet and team events recently," said Team GB's chef de mission Andy Hunt.
"We are delighted to welcome a full complement of nine to Team GB for the London 2012 Olympic Games.
"The synchronised swimmers train incredibly hard and, under the expert guidance of Biz Price, have demonstrated consistent progress over the last four years."
Three-time Commonwealth Games silver medallist Randall added: "I can't wait to hear the home crowd and know that everyone is behind us.
"We got a taste of it at the test event and to think that was only a quarter full is really exciting."
Katie Clark, 18, from Reading is the youngest member of the squad and had to leave school to concentrate on making the squad.
"I had to give up a lot, so it's great to be selected," Clark told BBC South Today.
It is the first time Great Britan has entered a team in the Games but Anya Taraisuk missed out on selection and now will not swim in London. Performance director Biz Price admitted it was a tough decision.
"It's always tough and it is not a decision any coach likes to make but it is one we have to make as we are only allowed to take nine athletes," Price told BBC South Today.
"Number 10 will be included because she will be our official reserve and we will keep her as such. But yes, it was definitely a tough call."
Synchronised swimming team: Yvette Baker, Katie Clark, Katie Dawkins, Olivia Federici, Jennifer Knobbs, Vicki Lucass, Asha Randall, Jenna Randall, Katie Skelton.