London 2012: Final three sailors named for Team GB squad
Last updated on .From the section Olympics
Stevie Morrison and Ben Rhodes clinched the one spot in the highly competitive 49er class as Team GB completed their sailing squad for London 2012.
The pair, who were ninth in Beijing in 2008, join Alison Young in the Laser Radial as the final sailors in the 16-strong squad for the 10 Olympic events.
Helena Lucas, sailing the 2.4mR, makes up the six-person Paralympic squad.
Olympic sailing boss Stephen Park says Team GB have "people with potential to medal in every single event".
Morrison, 33, and Rhodes, who will be 31 on 10 May, have been sailing together since 2001, and won the 49er World Championship in 2007. Going into Beijing, they were among the favourites for gold but endured a disappointing Games.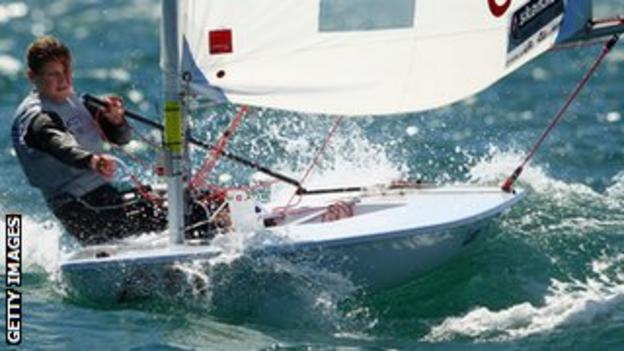 "It's a massive honour to be selected," said Morrison. "It does feel very different this time to four years ago - we were one of the first teams to be selected for Beijing and back then we felt like we kicked the doors down and left the selectors no scope to do anything other than select us.
"That led to a lot of expectation going into the Games and probably pressure on ourselves that we didn't realise at the time was there.
"This time around the things have been very different. The trials have been a lot closer but we always believed that we were the best team to deliver gold in Weymouth in 2012 and our track record in the venue over recent years supports that.
"We've learnt a lot about our sailing, about the Olympics and about ourselves since Beijing which we feel will put us in much better place to do the business at these Games."
Selection for the British 49er competitors in Weymouth has been fierce, with John Pink and Rick Peacock, the 2009 world silver medallists, and Dylan Fletcher and Alain Sign, the 2011 European champions, pushing hard.
"Disappointed obviously, we felt that we gave it our best shot and have come so close," Pink and Peacock wrote on Facebook. "We wish Stevie and Ben great success at the Olympics and feel some pride in knowing we have pushed them every step of the way."
Fletcher and Sign tweeted from their joint Twitter account: "No London Olympics for us, cannot put into words how we feel but upset, angry, disappointed, broken is a start.
"Going to give all we can to help @Exmouth49er [Morrison and Rhodes] bring home a medal."
Young, 24, who will be making her Olympic debut at Weymouth and Portland, said she was stunned to be chosen.
"It's pretty cool to be selected for an Olympic Games. There's a lot of experience on the team, so hopefully I'll be able to tap into some of that to help me at my first Games."
Britain won six medals at the 2008 Olympics in Beijing - four golds, a silver and a bronze - and Park has set a goal of four medals from 2012, to include at least one gold.
"I can honestly say hand on heart that we've got people who've got potential to medal in every single event - we've never had that before," said Park.
"That doesn't mean to say that we'll medal in every event - far from it - but in terms of preparing a good team the sailors have done an incredible job to date.
"Having teams selected at this stage provides us with an opportunity for them to pull together to bond as a group and really allow that to add an extra dimension to their preparation in the last weeks up until the Games."
British sailors are the most successful in Olympic history, having won 50 medals - including 25 golds - since sailing was introduced to the Olympics in Paris in 1900.