Venue profile for London 2012: Aquatics Centre
Last updated on .From the section Olympics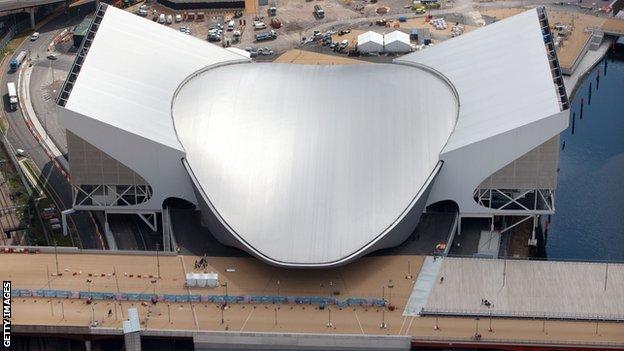 The Aquatics Centre was designed by Zaha Hadid and offers a spectacular sight on entering the Olympic Park.
IOC president Jacques Rogge describes it as "masterpiece".
"I've seen so many venues in my life but I had a visual shock - this is unique, state of the art," he said when visiting it last year.
Its wave-like roof, comprising 3000 tonnes of steel, is accompanied by two temporary extensions on either side.
Inside it boasts two 50m swimming pools - one for competition and one for warm-up - as well as a 25m pool for the diving events.
The venue was designed before London won the Olympic bid and yet it was the last of the venues to be completed. Its original £75 million budget escalated to over three-and-a-half times that amount.
"You have to build something that is iconic and something that defines the Park," says London 2012 chairman Lord Coe.
Legacy
The Aquatics Centre will open to the public in 2014. The price of a swim at the Olympic venue is expected to be no more expensive than at a local leisure centre.
The extensions on either side of the venue - which were not part of Hadid's original design - will be removed, leaving a greatly-reduced capacity of 2,500.