London 2012: George Foreman's Olympic salvation
By Saj Chowdhury
BBC Sport
Last updated on .From the section Olympics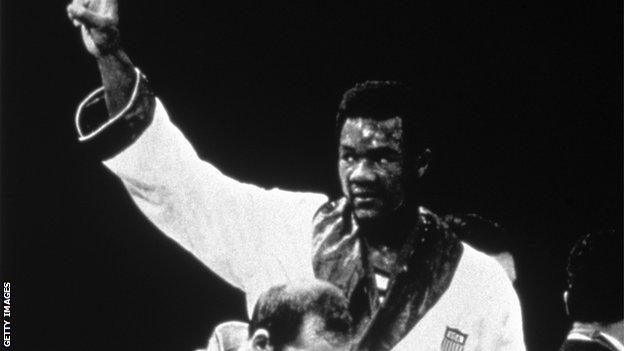 With each punishing jab, 19-year-old George Foreman was taking one more step towards healing the painful memories of his childhood.
He was fighting the Soviet Union's Ionas Chepulis - his fourth and final victim en route to the 1968 Olympics heavyweight boxing title. It was billed as the 'Cold War clash', but it was not the politics that drove the American teenager to victory.
"When you think about it," Foreman told BBC Sport, "only less than two years prior to the date that I'd stood on that platform receiving gold and listening to the national anthem, I was under a house, hiding from the police.
"I was a mugger and a thief on the street. The police were chasing me down. I climbed from underneath that house, in mud and slop, and said to myself, 'I'm going to do something in my life, I'm not a thief.'"
It was that moment, as he ran from the police, that led Foreman to leave his impoverished life in Texas and move up to Oregon, where President Lyndon Johnson's Job Corps initiative was in full swing.
It provided housing and education for disadvantaged children, and it was there he met counsellor and boxing coach Doc Broaddus, who nurtured the talent and power the former tearaway possessed. Twenty-one amateur fights later and Foreman was ready for the Olympics.
Poland's Lucjan Trela, Romania's Ion Alexe and then Italy's Giorgio Bambini succumbed to the power of Foreman in Mexico City.
His final opponent was Chepulis.
"When I look back at the fight, all I can remember was how afraid I was," he continued.
"Chepulis was representing another 'superpower'. I didn't have the confidence that people thought I had.
"I wanted to win gold but didn't expect anything like that to happen in my life. But I was told to jab, jab, jab. With my jabs and other wild punches, there was no way to stop me.
"The left jab was my number one punch - I still think it was the best punch in boxing."
Foreman's all-round skills improved during his career, but on the night of the final his technique was unconventional and his defence consisted of swatting. However, his power was seismic.
After only two minutes of the first round, 29-year-old Chepulis was sporting a bloodied face. Further pounding in the second round forced the referee to give the Soviet Union boxer a standing count before the contest was brought to a halt ahead of the bell.
Victory was Foreman's, but he would find himself at the centre of another political debate soon after.
The ecstatic teenager celebrated winning gold by parading around the ring holding a small United States flag. Ten days earlier, two of his compatriots, sprinters John Carlos and Tommie Smith, stood on the podium inside the Olympic Stadium and protested for black civil rights in their country.
"I bowed to the judges, then waved my small American flag," added Foreman.
"I just wanted to let the world know 'I'm from America, I'm from America', because I had forgotten that people can look at you and see any differences. I was just a young man so happy and telling the world my address.
"I had a lot of flak. In those days, nobody was applauded for being patriotic. The whole world was protesting something. But if I had to do it all again, I'd have waved two flags."
Carlos, the 200m bronze-medal winner, whose symbolic black-gloved salute raised questions of black poverty in the US, did not criticise Foreman for his show of patriotism.
In an interview last October, Carlos said: "George took a lot of unnecessary heat as being the villain.
"You know, a lot of people on the left thought, 'Oh, George, he disrespected us,' or 'he hurt us,' or 'he didn't stand up for us.' Totally wrong. George was a tremendous individual during that time in '68, and he's even greater in life today."
Foreman had escaped poverty, found his vocation in life and started what was to be one of the great legacies of the sport.
"Boxing was a big step in my life," Foreman added.
"If I hadn't found boxing, I wouldn't have been able to fulfil half of my dreams. In fact, I didn't know how to dream until I found boxing.
"To be standing on that platform was testimony to what hard work, drive and a compassionate society can do for you."