Tom Slingsby wins Laser worlds to pressure GB's Paul Goodison
Last updated on .From the section Olympics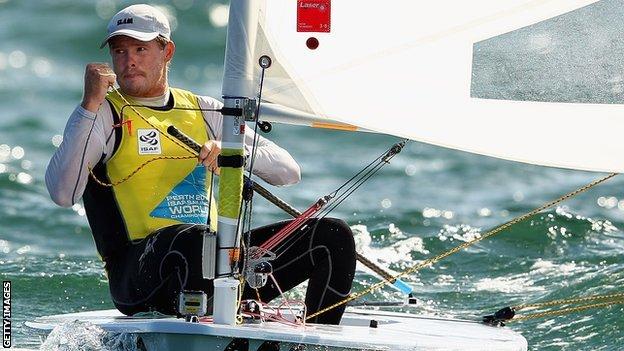 Australia's Tom Slingsby clinched his fifth Laser world title to increase the pressure on Britain's Olympic champion Paul Goodison ahead of this summer.
Slingsby won with a day to spare in light airs in Boltenhagen, Germany, as Goodison struggled to 20th overall.
"Hopefully this win sends the message that I'm definitely no light wind pushover," said Slingsby.
"Heading into the Games I know I still need to improve and that I still have work to do. I've got to keep pushing."
Slingsby won the Laser world title in 2007, 2008, 2010 and 2011 but finished 23rd in Beijing four years ago as Goodison struck gold.
The Australian has also excelled in Weymouth, venue for the Olympic sailng regatta, winning the test event last August as well as the World Cup regatta in June.
"The rest of the fleet is going to be trying to topple me so I've got to be on my game," added Slingsby, the 2010 World Sailor of the Year.
Croatia's Tonci Stipanovic was second in Germany with New Zealand's Andrew Maloney in third.
Goodison, had two seconds and a first but also suffered from three yellow flag scoring penalties for "illegal kinetics" [body movement] in the 14-race regatta to leave him well down the fleet.
"It's been a pretty frustrating regatta for me in terms of the yellow flags early on, which I have to say I've been a bit surprised at," said the 34-year-old Goodison.
"I don't feel that I've been doing anything differently in my sailing to justify them, but obviously the jury at these World Championships has seen that differently.
"In spite of those issues there were some positives to come out of the week, so I will have to take what lessons I can from this event forward into Skandia Sail for Gold and the Olympics."
Goodison, the 2009 Laser world champion, finished fifth in last year's World Championships in Perth but has added a gold and a silver on the World Cup circuit this year.
Britain's three-time World Championship medallist Nick Thompson was forced to sit out of the Boltenhagen event after having his appendix out.