Spence wins modern pentathlon world title to seal GB Olympic spot
By Ollie Williams
BBC Olympic sports reporter in Rome
Last updated on .From the section Olympics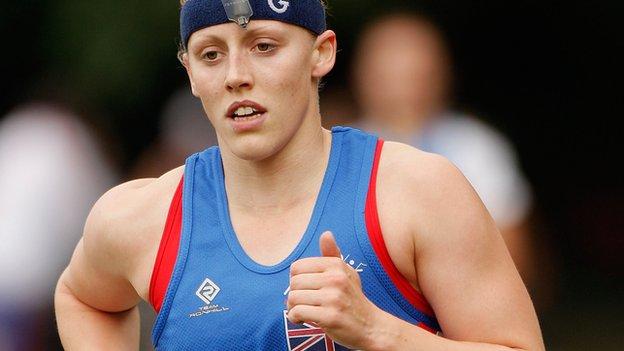 Mhairi Spence won the pentathlon world title for Great Britain and booked her place at London 2012 in the process.
Spence, 26, stunned France's Amelie Caze and sprinted to victory in Rome. Team-mate Samantha Murray came third to earn her own spot in GB's Olympic team.
Heather Fell and Freyja Prentice, who had been in the running to make the British Olympic team, missed out.
"I always knew in my heart I was good enough to win," Spence told BBC Sport.
"But it's easy to say. It's easy to believe. It's easy to dream it. Actually, it's really, really hard.
"I didn't make it last time [to Beijing 2008]. Since then I've grown up a lot, matured, worked hard and thrown myself into my sport."
Britain can only send two female pentathletes to the Games - medals for Spence and Murray ended the Olympic hopes of Beijing silver medallist Fell, who finished 15th, and Prentice, who came 16th.
"I wanted this so, so badly," said Spence. "I've wanted to go to the Olympic Games since I can remember. Everyone says it's their childhood dream, but it really was mine."
Pentathlon's five-event test begins with fencing, followed by swimming and showjumping. It concludes in a new-look combination of running and laser-pistol shooting, introduced after the Beijing Games.
Spence overhauled Caze, who was bidding for a record-equalling fourth world title and had built a seemingly impregnable 37-second lead heading into the day's final event, the combined run-shoot.
But the Scot somehow caught her up and Murray moved up a place into third, a result the British performance director Jan Bartu admitted was beyond his wildest dreams.
"Caze had such a massive advantage over Mhairi and Samantha. I thought we might get one medal if everything went right," said Bartu.
"Mhairi's story is amazing: what she's done over the last 18 months, the transformation of her as a person and an athlete.
"We worked hard with her, we trusted her, and this is the reward.
"Samantha is another. She was kicked out of our development programme because she couldn't cope with the demands.
"She came back, she made her way up and now she's a world bronze medallist. It defies all theories and statistics."
Both athletes collapsed in laughter and tears having crossed the finish line. The result earns the pair a substantial funding increase alongside participation in their home Olympics.
"I'm just so proud and pleased with my achievements today," Murray, 22, told BBC Sport. "I feel like I've done myself justice and followed my heart, and I've come through.
"The things that I've overcome to get here," she added, breaking down in tears. "It's a life's ambition made real."
Spence, asked if she is now the Olympic favourite, said: "I doubt that very much. I have a lot of work to do before London and I can't wait to start doing it."
While they celebrated, their achievements meant the door to London 2012 closed for Fell and Prentice. Had nobody British won medals here, the team would have been decided by selection committee in June.
Fell has recovered from a slump after winning silver at the 2008 Beijing Olympics and is known for performing on the big occasions, but fenced poorly on Saturday and could not recover.
Her performance, combined with that of Spence and Murray, was enough to earn Great Britain team gold though, ahead of Hungary and China.
Prentice had an impressive 2011 but has struggled to overcome injury and illness this year.
She and emerging men's star Jamie Cooke were the only Britons to reach the London 2012 qualifying standard last year, but poor performances early in 2012 wiped out any advantage they had in the battle for Olympic selection.
British duo Cooke and Nick Woodbridge compete in Sunday's men's final, but Sam Weale finished 13th in his semi-final on Friday, missing the final by an agonising margin as the top 12 progressed.
Bartu admitted Weale's failure to make the final "does not help" his chances of reaching the Olympics, where only two British men can compete.