GB women gymnasts finish fourth in European team Championship
Last updated on .From the section Olympics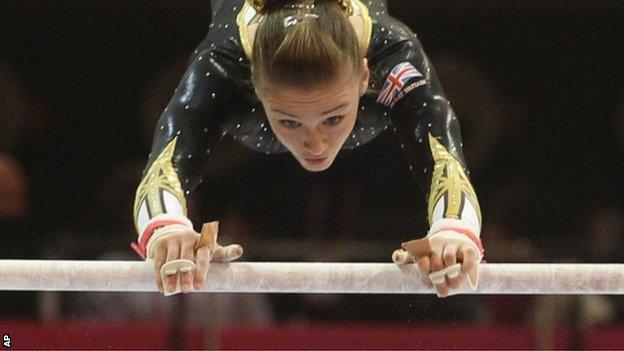 An inexperienced Great Britain gymnastics team missed out on the medals after finishing fourth at the European Championship in Brussels.
The quintet of Hannah Whelan, Jenni Pinches, Danusia Francis, Rebecca Tunney and Ruby Harrold finished with a total of 167.763 points.
Falls on the beam by both Whelan and Pinches cost them a medal.
They were over three points adrift of bronze medallists Italy, with Romania taking gold and Russia silver.
The team were missing the three-time world champion Beth Tweddle, who is recovering from injury, as well as Imogen Cairns and Becky Downie.
After a strong start on the uneven bars, beam errors from Whelan and Pinches saw the GB women drop from third to fifth at the halfway stage.
A solid floor performance was followed by double-twisting yurchenko vaults from 15-year-olds Tunney and Harrold - the latter of whom was performing it in a major senior competition for the first time - but they couldn't claw their way back into the medals.
Whelan, who will compete in the beam and floor finals on Sunday, said afterwards: "I'm a little disappointed, I wasn't on form today but I'm really proud of everyone, we all worked so hard.
"It's a shame but it will only make us stronger."
Pinches admitted she felt partly responsible for the team finishing outside the medals, but said there was no point having regrets.
"We know we can up our game and that's what makes the sport so exciting to watch, anything can happen on the day," she said.
"Fourth is still an achievement to be proud of and it's great experience for the Olympics."