GB Olympic judo hopefuls get four golds in British Open
Last updated on .From the section Olympics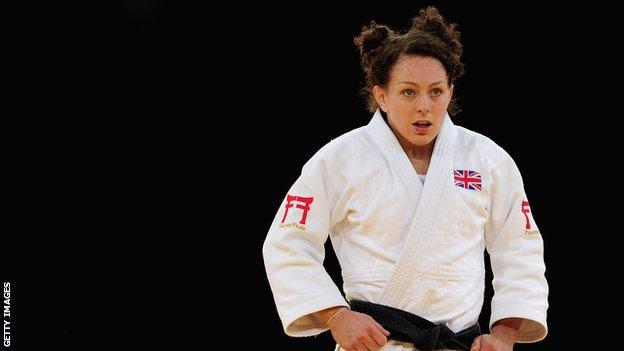 Great Britain led the medal table after four golds on day one of the British Open European Cup at the K2 in Crawley.
Gemma Howell followed last week's bronze in the Baku Grand Prix by winning an all-British final against Faith Pitman in the -63kg category.
Another London 2012 hopeful, Ashley McKenzie, sealed his fourth British Open title by winning the -60kg class.
And there were golds too for Sally Conway in the -70kg category and Gemma Gibbons in the -78kg class.
Karina Bryant and Jan Gosiewski were also among the medals on the first day.
European bronze medallist Bryant fought her way through the repechage to claim +78kg bronze, while Gosiewski took the final place on the rostrum in the -73kg.
After claiming his gold with five wins, McKenzie said: "I had a lot of support today. I love competing domestically and being a London boy I hope I can be selected for the Olympic Games and count on the home support backing me all the way."
Among the 206 athletes in action, it was the judoka from France who also made their mark, finishing second in the medal table with a gold, four silvers and three bronze.