Nick Woodbridge improves GB Olympic prospects at Worlds
By Ollie Williams
BBC Olympic sports reporter in Rome
Last updated on .From the section Olympics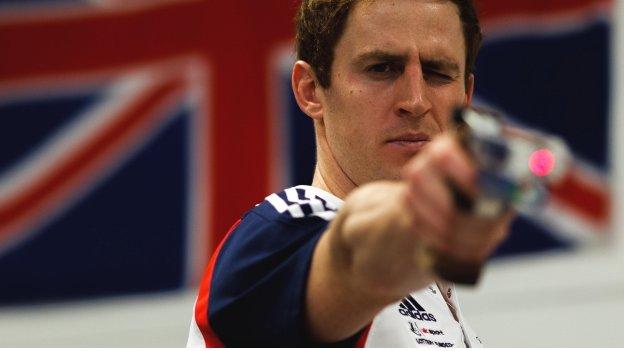 Britain's Nick Woodbridge finished 10th at the modern pentathlon World Championships in Rome to strengthen his claim to a place at the Olympics.
Team-mate James Cooke finished well back in 33rd and a third Briton, Sam Weale, did not reach the final.
Britain can send two male pentathletes to London 2012 and Woodbridge now looks likely to take one of those places.
"I'm not happy - it's what could have been. But with the Olympics in the long term, I'm happy," he told BBC Sport.
"You're always thinking, 'Where are the other GB guys coming?' You almost rate your performance against them.
"Beating them is a good thing for Olympic qualification, but I'm at the point where I want to be winning medals now. I'm in the peak of my career so if not now, when am I going to do it?"
The 25-year-old started pentathlon's final event, the combined run-shoot, in fifth but slipped back as Russia's Aleksander Lesun beat compatriot Andrei Moiseev to gold.
Cooke, 21, had a horrendous start to the day in keeping with a poor year to date.
He finished last by some distance in the fencing and never subsequently had a hope of a good result, despite winning his signature event, the swim.
"I didn't finish last in the fencing - I finished last by a long way," he admitted.
"I'd hoped this would be a turning point but no, it's back to the drawing board and start again."
Cooke's saving grace may be that he qualified himself for London 2012 with fourth place at last year's European Championships, whereas Weale has yet to reach the qualifying standard, which could take the decision out of the GB selection panel's hands when it meets in June.
Performance director Jan Bartu said: "Nick's performances this year have been very consistent.
"Jamie has a qualification place, he is on the list. Sam, unfortunately, is not at this point. He needs to get there and the China World Cup (in two weeks) is a last chance for him to get enough ranking ponts."
Cooke, a Manchester United supporter, crossed the line moments after Manchester City's winning goal against QPR handed them football's Premier League title at United's expense.
On being informed of the results, a resigned Cooke sighed: "That tops the day off."
On Saturday, Britain's Mhairi Spence won gold and Samantha Murray took bronze in the women's world final, securing both of the berths available to female pentathletes in Team GB for London 2012. Their selection will be confirmed next month.