GB canoe slalom team win European team gold
Last updated on .From the section Olympics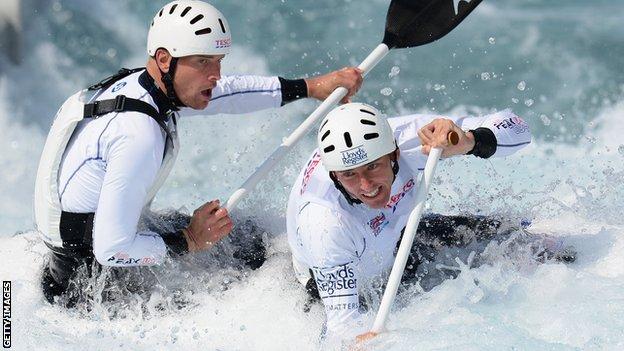 British canoe slalom pair David Florence and Richard Hounslow helped GB strike team gold at the European Championships in Augsburg, Germany.
But they teamed up with London-bound Tim Baillie and Etienne Stott, as well as Adam Burgess and Greg Pitt for gold.
There was also bronze in the women's kayak single for Fiona Pennie.
It meant GB won four medals after Mallory Franklin won two silver medals in the C1 individual and team events on Saturday.
Hounslow said afterwards: "The racing has left us confident for the summer, we have plenty of time before the games with three world cup races to go and racing on home water we are confident we can get up on the podium.
"The team race was great, it was the first race we have all done together, but we knew with such a tough course there would be mistakes, so we created a solid plan, stuck to it and executed it well, which was enough to top the podium."
Pennie, who missed out on Olympic qualification to Lizzie Neave, qualified for the final in seventh place but put in a strong performance in the final for a medal while Neave was 10th
The next event for the GB team will be the World Cup 1 in Cardiff from 8-10 June.