England's Faye White on the mixed emotions of pregnancy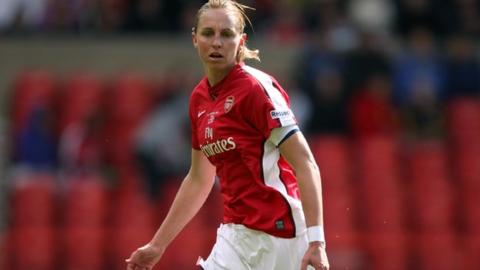 Former England captain Faye White explains her decision to retire from international football after earning 90 caps over 15 years for her country.
Anyone who knows me knows I loved playing for England and how much I've put into it over the years - on and off the field.
It's quite hard to switch it off and not play anymore. It was always going to be a tough decision to retire because you want to carry on as long as you can. But you need to know the right time to stop or realise when you can't play at the level you want to.
Following the 2011 Women's World Cup in July, the big decision was whether I would carry on my international career after all the injuries I've sustained. I decided to give it one more year.
I then picked up an injury in September, right at the end of the Women's Super League season, which meant I had to have keyhole surgery on both of my knees. I got back to training in January.
It's tough when you're struggling to get through a week of even basic training. If it wasn't one knee causing me problems, it was the other.
Then I found out I was expecting my first child. I had mixed emotions. I was happy because it made me realise there are things to look forward to in life (outside of football). But I was upset at seeing headlines that I'm not going to be playing for England anymore.
Once I reached 30, I realised football had taken over my life. I've been so consumed by it and loved every minute.
It's only been in the last few years I've started thinking "I want a family", and thought about life after playing.
There are other opportunities outside of playing which, because of my profile in the sport, I'm able to pursue, like coaching or TV work.
I stopped training and playing three months into my pregnancy, in mid-April. My Arsenal Ladies team-mate Katie Chapman played competitively for three months and then trained up until six months when she was expecting but the other girls didn't want to tackle her and were scared of hitting her in training.
The pregnancy means I've put on a bit more weight - I can still run around and train with the team, but they have big games coming up so I've taken myself out of training so they can concentrate and not worry about hitting me.
I'm not really worried about the physical changes the pregnancy will cause to my body. I'm healthy and can handle the demands. But it is quite tiring, it's sapped all my energy and I'm not used to that.
As a captain I always thought it was important that no matter what was happening in my life, the team shouldn't be affected. Few people saw me not in control of my emotions. But now, sometimes, I'll be crying for no reason and I think, "what's going on?", but it's all part of it. I'm just letting it go and enjoying the experience.
My other half has already told me I'd be a nightmare if I stay at home after I've given birth. He's said after a few weeks of maternity leave I should go back to work.
I don't think I'll be able to sit there at home either; I'll want to work and feel like I'm contributing to women's football.
When I was playing, my achievements never registered because I was always thinking about the next goal. But it's nice to sit back and say 'wow'.
Despite all my injuries I've been able to play at the highest level throughout my career and I'm proud of that. My pregnancy is the best possible reason for me to move on to another chapter in my life.
People have said having a baby will far outweigh any achievement I've ever earned within sport, and it will be.