London 2012: BBC launches 'Digital Olympics' coverage
Last updated on .From the section Olympics
The BBC has announced details of the digital services that will offer viewers the most comprehensive coverage ever of an Olympic Games.
An enhanced video experience will give access to up to 24 live HD streams and 2,500 hours of coverage via the BBC Sport website on PC and laptop.
A free Olympics mobile app will allow audiences to access content on the go.
The BBC Olympics mobile browser site, accessible across all mobile devices, will mirror much of the desktop experience, while audiences can also access coverage through tablets and connected TV.
The BBC's Red Button service for the Olympics on Sky, Virgin Media and Freesat will offer audiences access to up to 24 live streams, while there will be an additional 24-hour channel of extra BBC Olympics content available via the BBC Red Button for audiences with Freeview and BT Vision.
The BBC Sport app for connected TVs will give audiences access to the BBC's interactive coverage, while Virgin Media TiVo users will be able to access this content via the BBC Red Button.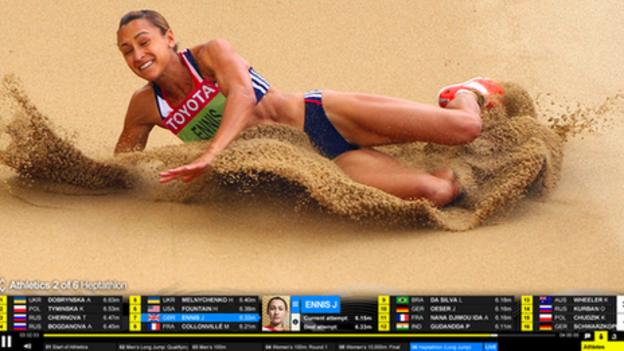 "The London 2012 Olympic Games is likely to be the biggest sporting event in the UK in our lifetimes," said Roger Mosey, BBC Director, London 2012.
"The BBC's coverage will ensure that our audiences need never miss a moment.
"As the nation's broadcaster, we are committed to ensuring that viewers get the most from their Olympic experience and our comprehensive coverage will deliver on that promise.
"We will be bringing live coverage of every Olympic Sport from every venue, through a combination of BBC One and BBC Three and up to 24 simultaneous streams live online on PC, mobile, tablet or connected TV.
"These services will be complemented by coverage on Radio 5 live, mobile and tablet.
"The majority of cable and satellite viewers will be able to access the 24 channels on their providers' platform through the BBC Red Button.
"Alongside our sport offering, our news services will be providing impartial news coverage on all the big Olympic stories."
The flagship Olympic channels, BBC One, BBC Two (when BBC One switches to the news), BBC Three, BBC HD and BBC One HD will be dedicated to the event over the 17 days of competition.
A 24-hour digital radio station, Radio 5 live Olympic Extra, will complement BBC Radio 5 live and BBC Radio 5 live Sports Extra for the duration of the Games.
These stations combined will bring round-the-clock news, commentary and coverage with the majority of the stations' output coming live from Olympic venues around the UK.
"It's serving audiences in a way we've never been able to do before," said Dave Gordon, BBC Sport's Head of Major Events.
"From even more extensive coverage on TV, radio and online to mobile phones and tablets there will be unlimited content available. The technology is now in place to offer the ultimate choice for our viewers and there will be times when we will have up to 24 screens of sport."