Hurdler Jack Green learning from training with Dai Greene
Last updated on .From the section Olympics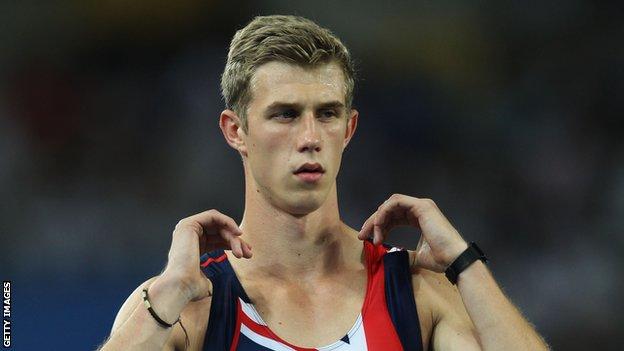 Kent 400m hurdler Jack Green says training with Dai Greene under the tutelage of coach Malcolm Arnold is the perfect preparation for the Olympics.
The 20-year-old has spent the last 18 months with the duo in Bath.
Green told BBC Radio Kent: "Things have stepped up. Malcolm is the best coach in the world when it comes to hurdles and Dai is the world champion.
"Dai's a model professional when it comes to training and racing. I couldn't be in a better place."
He continued: "I've got him as a target the whole time in training. I'm the young pretender and he's the man to beat but we get on well.
"I know where I need to be and it's all going to plan."
Green will be in the British 4x400m relay squad at the Diamond League meeting in Rome later this month and is confident of also being involved in the relay at the London Games.
"I want to be in the relay team come the summer. As long as I put in a good performance there, I hope that will seal my place," he said.
"If I'm running the times to be in the top five in the world in the hurdles, there shouldn't be any issue."
However, Green will not compete at the European Championships in Helsinki this summer following his experiences at the World Championships in Daegu last year.
The Canterbury runner finished fifth in his 400m hurdles semi-final heat, in what he termed at the time an "embarrassing" performance.
"You can't peak twice in a year," he continued.
"I did the European under-23 Championships [last year], which I won, and peaked for that time.
"But by the time I got to the World Championships I was too tired and nothing was going to happen.
"My focus this year is the Olympics."
Green has already experienced the Olympic Stadium, having won the 400m and the 400m hurdles in the BUCS Championships earlier this month.
"I expected a lot better in the hurdles," he said. "But I can't argue with two wins in the Olympic Stadium.
"There was half capacity for the hurdles on Saturday and the atmosphere was brilliant. It will be different come the summer because there will be a lot more riding on things.
"But the way you've got to look at is that it's just another track, another race and you've got to get on with it."