London 2012 Olympics: Mongolia's fight for new heroes
By Sangita Myska
BBC News, Ulan Bator
Last updated on .From the section World Olympic Dreams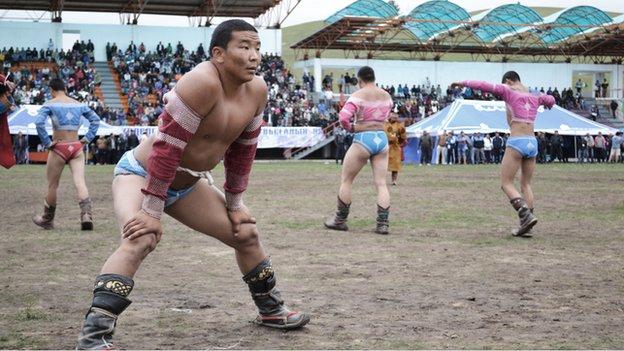 Mongolia, a country once steeped in ancient traditions, is changing beyond recognition.
The country of Genghis Khan where nomads and wild horses roam free beneath brilliant blue skies is in danger of becoming a thing of the past.
An unprecedented economic boom is bringing about far-reaching social change.
Soon, over a third of Mongolia's population will have left the countryside to live in the capital city of Ulan Bator.
Few aspects of life here are untouched by the relentless drive to modernise - and that includes the nation's sport.
Badar Uugan Enkhbatyn is one of the most famous people in Mongolia. Dressed in a designer tracksuit, with his baseball cap pulled down low, he carries himself with the air of an MTV popstar.
His fame, however, owes nothing to music and everything to boxing - a relatively new sport here. In 2008 he won Olympic gold - one of two Mongolia earned in Beijing, 44 years after it first competed in the Games.
Badar Uugan is more than just an athlete here. Twenty-one years after the end of communist rule, he embodies what modern Mongolia hopes to be - strong, independent and making a mark on the international stage.
I meet him in the industrial city of Erdenet, where he has taken a break from training to attend the traditional sports festival of Nadaam.
Naadam and the three 'manly games'
These gatherings bring the country to a standstill. The games are over 800 years old and were originally developed to test military skill. They involve three so-called 'manly games' - archery, horse racing and wrestling.
The latter two events are by far the most popular - there is a belief here that touching the sweat of a competition-winner will bring spectators good luck.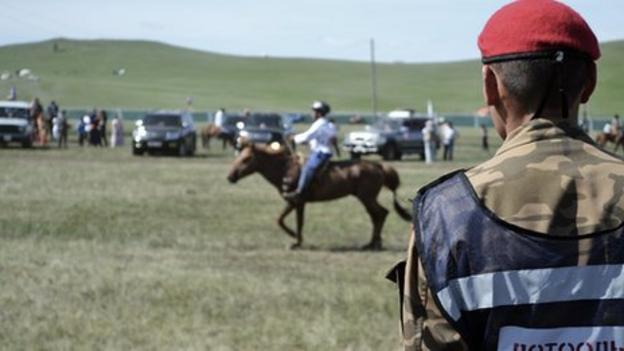 The horse races take place across the expanse of the steppes and begin shortly after sunrise. After a four-hour ride out, around 60 riders arrange themselves on the starting line. All are young - the youngest is aged around seven - all are are paid and most come from nomadic families.
Then with almost no warning, in a swirl of red, dry dirt they set off.
The sound of cracking whips, thudding hooves and guttural screams accompany the race back - which is ridden at breakneck speeds across a spectacular terrain.
An hour later, the winners are met at the finish by crowds at least five people deep, cheering loudly and in festive mood.
It is, however, at the wrestling arena that Badar Uugan and I finally meet. Here the best wrestlers in the region fight it out until one of them prevails.
Bouts are not timed. They continue indefinitely until one of the competitors touches the ground with their upper body, knee or elbow.
Each sportsman will have a sort of personal cheer-leading poet - a man, immaculately dressed in a bright silk gown and hat, who improvises verse that celebrates the merits of his fighter.
Until recently, this festival was Mongolia's sole source of sporting legends.
New heroes
But times have changed and Badar Uugan's presence inevitably causes a stir. As we talk, fans rush to talk to, gawp at or demand a vigorous handshake from their Olympic hero. So how does he handle the fame?
"At the beginning it was difficult," he tells me. "Mongolians can get very excited. On the streets people would suddenly appear, jump on me and hug me!"
Badar Uugan remains empathetic though; "You have come here during the Naadam and you have probably seen the three manly sports but the Olympics is a bit different.
"After four decades of expectation, Mongolia finally got a gold medal. When you get something for the first time, it's special, so I'm proud of myself too."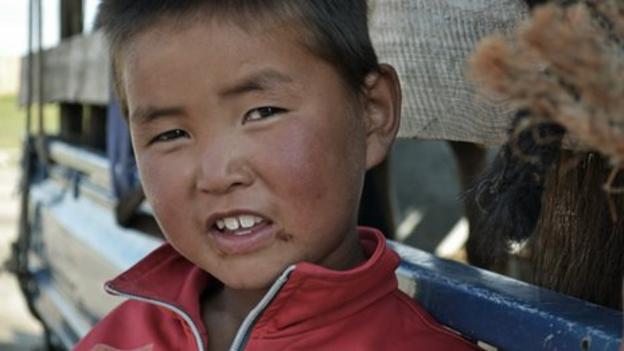 The impact he has had by succeeding in the relatively modern sport of boxing has not eluded him either.
"After the Games people became more interested in a range of sports. They started to realise it's possible to win a gold in the Olympics. It's down to you, you are the one who can achieve success."
Yet, choosing boxing at all was a simple twist of fate. Badar Uugan grew up in the sprawling, shanty suburbs that now surround Mongolia's capital. His family struggled to make ends meet and as a child, he fell into bad company.
"I was a naughty kid. I would say I was 150% bad!" Badar Uugan says with a laugh.
It was Badar Uugan's repeated scrapes that alerted his grandfather to the fact that the boy was a gifted wrestler and lessons soon began at home - but it was the street-smart, edgier sport of boxing that grabbed his attention.
"It was my uncle who suggested boxing," he recalls. "He said if you're out on the streets beating other kids up, then why not become a boxer so that you can beat people up legitimately."
Olympic dreams
Since then, Badar Uugan's influence has spread far and wide. A two-hour drive away from the electricity pylons and mine-scarred hillsides of Erdenet, is one of Mongolia's two small Olympic training camps.
It has become a revolving door for Olympic hopefuls, keen to repeat Badar Uugan's success across a variety of sports - including basketball, shooting and long-distance running.
Taivankhuu Khurelbaatar, a judo coach, warns me not to underestimate the boxer's influence: "There was a special effect on young people when Badar won gold. They got a huge belief that in becoming an athlete you can promote Mongolia and be proud to be Mongolian."
It is this added desire to represent their fledgling democracy on the world stage, that has become a crucial driving force here.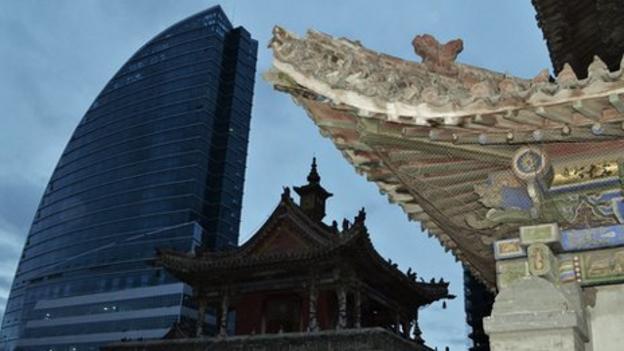 Wedged between two giant neighbours, China and Russia, Mongolia has struggled to have its voice heard but the discovery of huge mineral wealth has brought international investors knocking and the speed of economic and social change is breathtaking.
One estimate suggests Mongolia's economy grew by a staggering 9.8 per cent this year.
The result is that the over 1m people have now poured into the capital. A high proportion of new arrivals live well below the official poverty line but migrants continue to come looking for jobs, education and opportunity.
Meanwhile, the city centre feels increasingly like one big construction site. Glamorous glass and steel buildings are rapidly rising to house international businesses, hotels and even a designer shopping mall for Mongolia's oligarchs and their wives.
Even the odd monk can be spotted stocking up on 'must have' labels.
This aspect of city life is well out of the reach of most Mongolians but there is a palpable and shared desire to modernise almost every aspect of life.
As coach Khurelbaatar says: "By succeeding in the Olympic Games we are demonstrating to the world the success of Mongolia in our development, our culture and economics.
"Although the Olympics take place during peacetime, the Games are a bit like war… it's all about competing against other countries."
As a result, Badar's 2008 gold medal has taken on a significance well beyond a simple sporting challenge - it has shown Mongolians across this nation that they can take on the world and win.