London 2012: Monique Gladding misses out on diving medal
Last updated on .From the section Olympics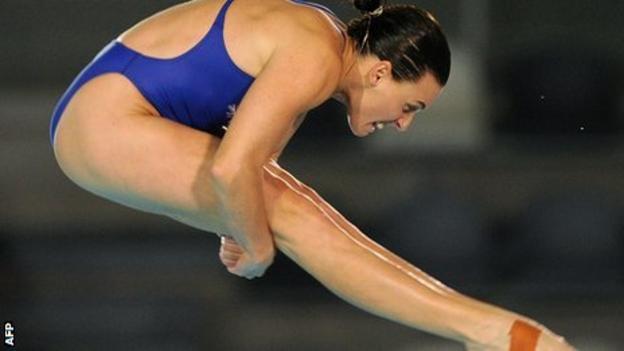 Monique Gladding admitted a "stupid" error cost her a medal at the European Diving Championships in Eindhoven.
Gladding, 30, messed up her penultimate dive and ended up finishing fifth in the 10m platform final.
The Briton, who had been inside the top three until the error, said: "I'm gutted. That was really stupid. I've thrown away a medal.
"I was super pumped. I just didn't fully commit to my come-out. That split second is crucial."
Gladding is seeking to impress as she continues her bid to qualify for London 2012.
"I wasn't quite 100% positive at the end and that's what you get," she added. "It's very frustrating when one mistake costs you a medal; and who knows what colour?"
Her preliminary score in the morning, 320.85, would have been enough for silver in an error-strewn final.
Despite her frustration Gladding found reason to be positive, following another impressive display since her remarkable recovery from a horrific injury suffered at a meet in Russia 15 months ago.
"It's good to be fifth in Europe and be that frustrated," said Gladding, whose score of 300.70 was 11.95 points shy of the podium.
"I still know I can improve, maybe it's all going to come right in London. Maybe today wasn't the day. Right now I feel like I want to cry but I'm sure when I get back there will be plenty of things to be positive about."
Team-mate Stacie Powell, 26, battled back from a slow start to finish eighth.
Gladding and Powell will make their final bid for an Olympic place at the trials in Sheffield next month.
The pair face stiff competition from Tonia Couch and Sarah Barrow - who will be in platform synchro action on Thursday - in arguably the strongest diving discipline in the British team.
Gladding added: "It's so stressful. We can't relax. I'm just working as hard as I can until then so that the selectors believe I'm the best person."