London 2012: Mary Kom qualifies for the Olympics
Last updated on .From the section World Olympic Dreams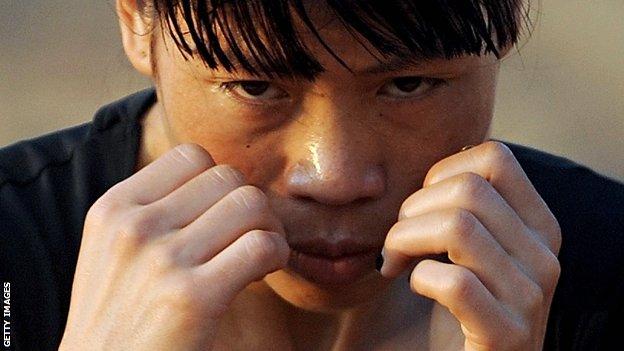 Five-time world champion MC Mary Kom's Olympic dream is one step closer.
India's boxing mother-of-two has qualified for the Olympics by finishing as one of the top two Asian boxers at the Women's World Boxing Championships.
After losing in the quarter-finals of the tournament in China, 'Magnificent Mary' was left relying on results to go in her favour.
Needing Britain's Nicola Adams to beat Elena Savelyeva in the semi-finals, Mary Kom celebrated Adams's win.
"Olympic slot confirmed finally! I am so happy," she told the Press Trust of India.
However, her joy was tinged with regret as, for the first time since 2001, she failed to reach the World Championship podium.
"Medal is very important for me. I am happy with the qualification but I am very upset not to get a medal," said the 29-year-old Manipuri.
Ahead of the semi-finals, both Mary Kom and North Korea's Hye Kim were primed to claim the second Olympic spot allocated to Asia.
While Mary Kom had lost to world number two Adams, Kim had been defeated by Savelyeva in the quarter-finals. The winner of the Savelyeva-Adams bout would therefore decide which boxer qualified for London 2012.
Adams's victory clinched it for MC Mary Kom who will be India's sole female boxer in London. Middleweight Pooja Rani was defeated in the first round and results went against lightweight L Sarita Devi.
"I feel sad for Sarita, she had worked hard and I can understand the heartbreak she must be going through," said Mary Kom.
"I will be the only Indian woman boxer at Olympics. I will be part of history and that really means a lot to me".
With the possibility of qualification out of her hands, Mary Kom was sanguine about her prospects.
"I was not tense before today's bout. There was no point in worrying about something that was not in my hands," she said.
"I only thought about God. He has seen my struggle and I knew my hard work would not go waste just because of one loss".
With the introduction of women's boxing at London 2012, the seventh iteration of the World Championships took on added significance.
It served as a qualification event for the 2012 Olympics where boxers vyed for places in the three Olympic weight divisions: flyweight, lightweight and middleweight.
Mary Kom usually fights at light flyweight level and is therefore punching above her weight. She struggled at the recent Olympic test event in London where she was beaten 13-9 by Argentina's Pamela Paoloa Benavides.
One of the favourites for flyweight gold in London is China's Ren Cancan. Mary Kom lost out to her at the 2010 Asian Games but was able to exact revenge at February's Asian Women's Boxing Championships.
There were eight Olympic berths up for grabs in each division. Four were awarded to semi-finalists and another four awarded to small and developing countries.
The process was not without controversy. The Republic of Ireland's Katie Taylor complained some of the world's best pugilists would miss the Olympics as a result of the geographical bias.