London 2012: Tom Reed admits Olympics are out of his reach
Last updated on .From the section Olympics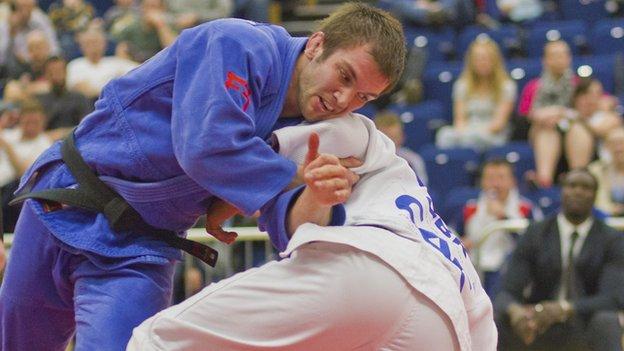 Devizes' Tom Reed has conceded he will not be able to secure a place in Team GB for London 2012.
The final squad is not due to be announced until June but the 26-year-old believes Scotland's Euan Burton will fill the space in the 81kg class.
And despite winning silver at the British Open last week, Reed told BBC Wiltshire: "I don't think it's going to be enough this time.
"I haven't done enough to push myself in my weight category."
Reed, who is Britain's number two behind Burton, was narrowly beaten by fellow Brit Thomas Davis at the Open in Crawley - the final domestic competition before this summer's Games.
Qualification for London 2012 is based on world rankings and performances by competitors over the past two years.
As it stands, Reed is 121st in the world and fifth on the European rankings and, although he feels he has improved in recent years, he concluded: "At this stage, players know what's going on as that was the last tournament.
"You know the results and the way it's going to go - I know the score.
"I'm bitterly disappointed. People always talk about focusing on it for four years, but I've been thinking about it since I was 10 years old.
"I always thought 2012 would be around the right time for me."
The four-time British University champion is now focusing his efforts on making the grade for Rio in 2016.
"I'm still looking forward to the next four years," he added. "Coming from Great Britain, people tend to peak in their late-20s or early 30s.
"There is time for me. I would have loved to have done it in London but it's not meant to be and I've just got to get over it.
"I must not dwell on it - I just have to keep going."