London 2012: Steve Redgrave regrets Olympic drug ban ruling
Last updated on .From the section Olympics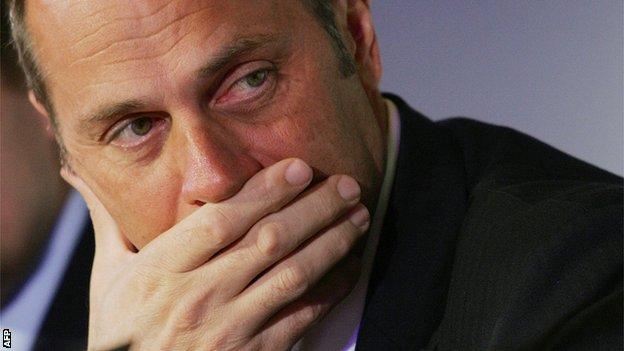 Five-time Olympic champion Sir Steve Redgrave has described the ruling that the British Olympic Association must lift its lifetime bans for drug cheats as "absolutely ridiculous".
The Court of Arbitration for Sport (Cas) ruled last month that the BOA must fall in line with World Anti-Doping Agency (Wada) policy.
"I'm very disappointed," BOA vice-president Redgrave told BBC Sport.
"It's drug cheats making our selection policy. It's absolutely ridiculous."
The BOA had been locked in a lengthy legal battle with Wada over what it said was its right to continue imposing lifetime Olympic bans on British athletes, even after they had served suspensions.
In November, Wada ruled this BOA by-law was not compliant with the Wada code, prompting the BOA to appeal against the decision at Cas.
Former drugs cheats Dwain Chambers and David Millar have been formally cleared to take part in the London Olympics.
Chambers, 34, is now eligible for selection into Team GB's track and field squad, and Millar, 35, for the cycling road race team.
Redgrave acknowledged that lifetime bans might not be the best option, but said the two-year bans imposed by Wada were insufficient.
"A lifetime ban is very tough. People should have a second chance in some ways," he said.
"But [under the BOA's prior law], if you dabble, if you play, if you take the risk, you're banned for life. And you know it. So the guys that are getting their chance now knew what they were dealing with.
"If you signed up to that, it's something you should accept.
"Hopefully Wada will see sense and start extending the ban from two years to four. I think everyone in sport would accept that."
Meanwhile, Redgrave says it would be "very special" if he was selected to light the Olympic flame at the opening ceremony on 27 July.
But the five-times gold medallist wants Dame Mary Peters or Sir Roger Bannister to be chosen if it is not him.
"It would be very special," added former rower Redgrave, who won gold at every Olympics from 1984 to 2000.
"I certainly haven't had the phone call and I'm not expecting the phone to ring! But it would be a huge honour.
"But... being the bookmakers' favourite, I can't see it being me really."