London 2012: British triathletes will accept domestique roles
By Ollie Williams
BBC Olympic sports reporter
Last updated on .From the section Olympics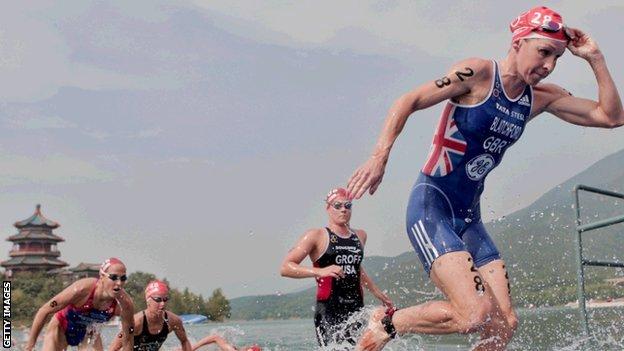 Some British triathletes are prepared to accept their only route to London 2012 may be as domestiques helping the Brownlee brothers or Helen Jenkins.
Domestiques sacrifice their own race to help others win. Jenkins and Alistair Brownlee are reigning world champions.
With three places to fill per gender, domestiques can be chosen if no others prove to be genuine medal contenders.
"I've had time to consider it and I'd take that role," triathlete Liz Blatchford told BBC Sport.
"I want to be an Olympian and to help Helen win a medal would be an honour.
"First choice, I'd love to go for myself, but to get a spot in the Games - if that means helping Helen - then yeah."
A podium finish at a top-level world series triathlon race is enough to earn selection, but has not been achieved recently by anyone other than Jenkins, Alistair Brownlee and younger brother Jonny.
Jenkins and Jonny Brownlee both won gold at last week's San Diego triathlon, in the absence of Alistair, who continues to recover from an Achilles injury.
Next week's Madrid triathlon is the final selection event for the British team, which will consist of three men and three women at the London 2012 races in Hyde Park.
"We keep thinking it will become clearer, and it keeps not being," said British Triathlon's Malcolm Brown. "We have a final event in Madrid and only then will it be clear what the circumstances are. It's all to play for.
"The principles are that we would like to select three athletes who have a chance of getting a medal. We have to consider: do we have athletes of that calibre? Failing that, we have a discretionary selection around assisting those athletes who have got a medal chance.
"But that may be a tough thing for an athlete to decide to do."
Will Clarke, who competed for Team GB at the Beijing 2008 Olympics, last reached a world series podium when he finished second in Hamburg in July 2011, in a race not contested by either of the Brownlee brothers.
Clarke, 27, has so far finished eighth in Sydney and 20th in San Diego this year. He said he was confident of Olympic selection until he received a phone call from British Triathlon.
"[They said they were] really looking for an athlete to get in the medal zone rather than be close to it. It made me realise it's far from over, there's a lot of work to be done and it will be really hard to qualify in my own right," he said.
"Hopefully I can do it. If not, I'll be going for a domestique role to work with the other lads.
"I think [the selection policy] is really harsh, I can't see a reason why athletes finishing eighth, 10th or higher can't be right up there on the day. Everyone knows anything can happen, people do big things on the day.
"But it's absolutely important for Britain to get a medal, all the funding is based on winning Olympic medals. I can understand why they're doing it, having someone in there who can increase the other guys' chance of getting a medal."
Jenkins, 28, said: "As an athlete, you like to think the three best people should go to the Games. But I'm very aware that our funding comes from UK Sport and their remit is medals.
"If I did have people there as support-role athletes, it puts more pressure on myself but if it helps us win medals and secure the future of our sport, that's a good thing.
"It's tough and it's emotional. If people help me I'll be grateful for all eternity that they were there for that purpose. It's a hard thing to do but it's an Olympics in your own country and most people would do anything to be there."