London 2012: Danson & Cullen named in GB hockey squad
Last updated on .From the section Olympics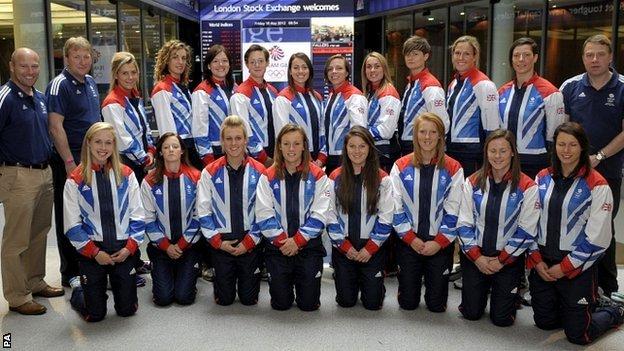 Injury worries Alex Danson and Crista Cullen have been named in the Great Britain Olympic women's hockey squad.
Both players will miss the London Cup warm-up tournament in June but return for the Games.
Britain, ranked fourth in the world, have named a squad of 16 for this summer's Olympics, where they will hope to improve on sixth place in Beijing.
"It's a huge, unbelievable honour," said Danson.
"As a child and as an athlete you dream of going to an Olympic Games but to have the opportunity in your own country is simply incredible."
Team captain Kate Walsh said: "I feel very honoured and privileged to have been selected to represent our squad at the London Olympic Games.
"We have progressed so far as a group over the last few years and I am looking forward to giving it everything we've got in front of a jubilant home crowd."
Cullen, a regular scorer from penalty corners, is another key player to have made the squad following an ankle injury scare at the test event.
"Words cannot describe how difficult it has been to make the final decision in selecting this squad," said head coach Danny Kerry.
"Since we centralised our training programme in late 2009, our process has been continuous, making it our most thorough and exhaustive ever.
"We have chosen what we feel is the best combination of players for the challenges of the Olympic Games
"Each and every one of the 28 athletes in the training group has committed so much and as a result we have the most powerful squad spirit I have ever known.
"I want to offer my congratulations to those that have been selected who I know will do our squad proud in London. I also want to offer my most heartfelt commiserations to those that have not been selected - they have given everything."
The addition of the 16 women's hockey players brings the total number of athletes officially selected to Team GB for London 2012 to 101.
Team GB women's hockey squad (born, home town, age):
Ashleigh Ball (Brighton, Cheltenham, 26)
Laura Bartlett (Glasgow, 23)
Crista Cullen (Boston, London, 26)
Alex Danson (Southampton, Odiham, 26)
Hannah Macleod (Huntingdon, 27)
Emily Maguire (Paisley, 23)
Anne Panter (Wellingborough, 28)
Helen Richardson (Hitchin, West Bridgford, 30)
Chloe Rogers (Great Dunmow, 27)
Beth Storry (Reading, 32)
Sarah Thomas (Aberdare, Merthyr Tydfil, 31)
Georgie Twigg (Lincoln, 21)
Laura Unsworth (Sutton Coldfield, 24)
Kate Walsh (Stockport, 32)
Sally Walton (Solihull, 27)
Nicola White (Oldham, 24)
Two reserve athletes are:
Natalie Seymour (Maidstone, 24)
Abi Walker (Glasgow, 30)