London 2012: GB men's hockey team draw Argentina in opener
Last updated on .From the section Olympics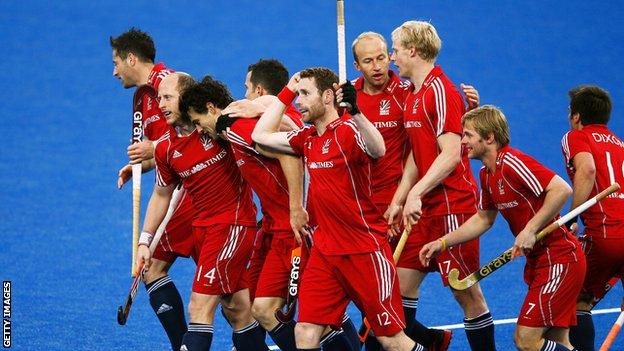 Great Britain's men face Argentina in their opening London 2012 Olympic hockey match at 1900 BST on 30 July.
Argentina's Fernando Zylberberg caused anger in Britain with a television advertisement that showed him training in the Falklands Islands.
The video ended with the voiceover: "To compete on English soil, we are training on Argentine soil."
Zylberberg was dropped from Argentina's final Olympic warm-up event but could still take part at London 2012.
Jason Lee's GB side, ranked number four in the world, will also play South Africa, Pakistan, Australia and Spain at the Olympics.
The GB women's squad, which has already been selected, open their campaign against Japan a day earlier - at 1900 BST on 29 July - with further matches against South Korea, Belgium and China, before taking on world champions the Netherlands in their final group match.
Great Britain's women are also ranked fourth in the world, but won the Olympic test event, defeating Argentina in the final.