Japanese cat comedian causes Cambodian Olympic chaos
By Guy De Launey
BBC News in Phnom Penh
Last updated on .From the section Olympics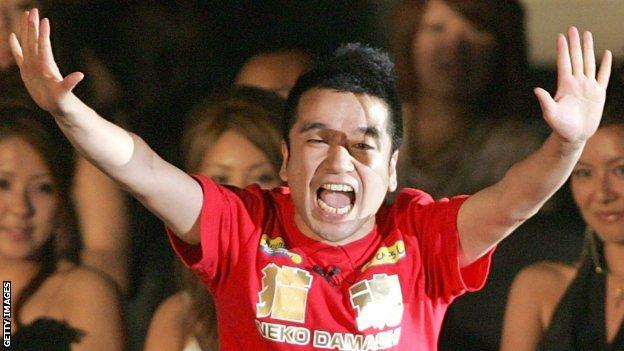 Every country has Olympic selection dramas, but Cambodia has gone one better.
Great Britain has to choose between Sir Chris Hoy and Jason Kenny in the track cycling sprint. Australia's swimming legend Ian Thorpe will be missing from the Olympic pool after failing to make the cut in qualifying.
Cambodia? This small Southeast Asian nation selected a Japanese comedian, best known for dressing up as a cat, as its representative in the men's marathon at London 2012.
To be fair to Neko Hiroshi ("Hiroshi the Cat"), he is not a bad runner, at least by amateur standards. And visions of him pounding round the Olympic course in full costume would be wide of the mark: he generally runs his marathons in standard athletic kit.
But there are serious issues at play here. Countries with minimal resources whose athletes fail to make the Olympic qualifying standards are given a handful of Olympic places, as a gesture of "universality".
In Cambodia's case, it is likely to have only five representatives in London - so giving one of those places to a foreign-born runner is hard for local athletes to swallow.
Each morning a group of them train at the dilapidated national sports centre in Phnom Penh, universally known to locals as the Olympic Stadium (though Cambodia has never hosted the Games). And though the heat is already stifling, talk of Neko Hiroshi's selection raises the temperature even higher.
"We must be proud to select Cambodians to participate, whether we win or lose. At least Cambodians can represent the country itself," says one athlete.
"The selection's not fair - they shouldn't select a Japanese runner instead of a Cambodian," says another.
Most outraged of all is Hem Bunting.
For several years he has been Cambodia's leading athlete, winning medals at two successive editions of the Southeast Asian Games. He represented Cambodia with honour at the Beijing Olympics, carrying the flag in the opening ceremony. In last month's Paris Marathon he improved his own national record (and set the fastest time by a Southeast Asian athlete this year).
Bunting says he cannot understand why he was overlooked in favour of a Japanese athlete whose best time was seven minutes slower than his own.
"I don't know what led the Olympic committee to make their decision - they haven't really answered my questions. Sport should be based on talent - so if I'm good enough I should be selected," he said.
Ironically, Bunting's successes have contributed to his problems. His efforts have attracted private sponsors - and brought him into conflict with the national athletics authorities.
Instead of sleeping in a room behind the swimming pool at the Olympic Stadium, the sponsorship allowed Bunting to fly to Kenya for months of training with specialist distance-running coaches. But to do this, he had to withdraw from the national athletics squad. That, say the authorities, made him ineligible for Olympic selection.
In contrast, Neko Hiroshi is connected to a Japanese organisation called Cambodia Dream. Last year he personally signed an agreement with the National Olympic Committee of Cambodia (NOCC) to sponsor the annual Phnom Penh half-marathon - and donate funds for athlete development.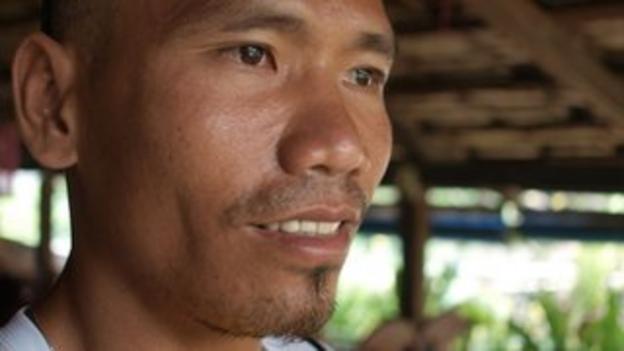 Even so, the NOCC's general secretary, Vath Chamroeun, insists that the Japanese runner was selected entirely on merit.
"Athletes must complete two criteria - record and sporting discipline. Bunting's record is number one, Neko Hiroshi is number two. But Bunting is not in the national team - the national federation put him out because of his discipline, not his record. They're a parallel thing. We must have plus-plus, not plus and minus. That's not a good image for the nation."
But in a fresh twist, it seems that Neko Hiroshi's dream may already be over. He took Cambodian citizenship last October but the world governing body of athletics, the IAAF, says that's too late for him to qualify for London.
What the International Olympic Committee makes of all this is not clear. It did not respond to repeated requests for comment, though it has funded four Cambodian athletes through "Olympic Scholarships" and makes "solidarity" payments to the national Olympic committee.
Chamroeun accepts that Neko Hiroshi may not represent Cambodia this time. But he refuses to rule out similar arrangements in the future.
"We look for the potential athletes, the excellent ones. That is normal in the world, even America and other countries buy athletes from other countries."
As for Hem Bunting, he is trying to rebuild bridges with the national athletics authorities - although time is running out before the selection deadline.
"I know I'm the strongest marathon man in Cambodia. No one can beat me. I really want to join the London Olympics to show the rest of the world what Cambodian athletes can do."