Gymnast Daniel Keatings confident of 2012 qualification
Last updated on .From the section Olympics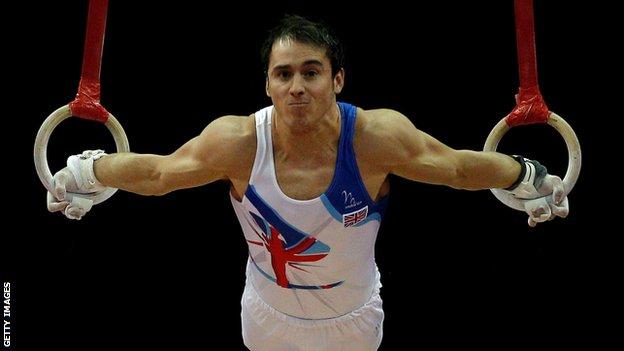 Corby gymnast Daniel Keatings has announced himself fully fit and confident of Olympic qualification.
The 22-year-old injured ankle ligaments six weeks ago, resulting in him missing the European Championships.
"It was a decision from my coach and the technical director to leave me out to let my ankle recover fully," Keatings told BBC Radio Northampton.
"I'm trying to get that last little bit of fitness before the Games and then I'll be 100% ready."
"I'm training fully on everything again. They just didn't want to push me too far and push me too quickly, so they have given me time to recover fully to give me the best possible chance," added Keatings.
Louis Smith, Daniel Purvis, Max Whitlock, Kristian Thomas and Ruslan Panteyleymonov are in the Great Britain team competing at the European Championships in Montpellier, France.
"I'll be keeping an eye on the five people out there seeing if they do well but my job is to prove myself in the next three qualification events coming up," said Keatings, who was the 2010 European pommel horse champion.
"Hopefully I do well at the qualifiers and then I can look forward to the Games. It's nerve-racing and kind of scary but it's exciting at the same time. I'm really looking forward to it."
Keatings won all-round silver at the 2009 World Championships and competed at the 2008 Olympics.
He added: "You have to train 110% every day but you have to know when to stop and when to miss things out if your body is sore as there could be that chance of injury, which wouldn't be the best timing.
"But you have to push yourself so it's quite a hard balance," Keatings said.
Keatings was part of the Great Britain squad that but he is not guaranteed a berth in the London 2012 line-up.
Team GB will be announced on July 4.