London 2012: Christine Ohuruogu will not visit stadium before Games
Last updated on .From the section Olympics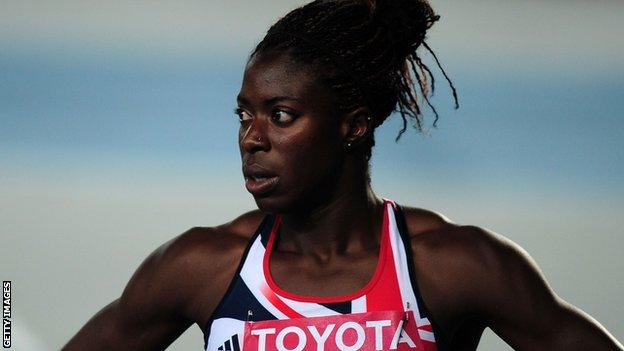 Christine Ohuruogu says she will not visit the Olympic Stadium before the London Games.
She told BBC London 94.9: "A track is a track. I didn't go to test the track in Beijing or Australia.
"As long as I know what I'm doing on the track, I'm happy. I don't think of it as a pressure situation. I just see it as being another championship."
She added: "It will be my third Olympics and for me it's not really something I'll think about."
Ohuruogu says she aims to keep away from the media spotlight in the run-up to the Games by focusing on her training schedule.
"I'm at my happiest on the track," she continued. "Tell me what I need to get done and then I'll do it.
"Training for me is like a mother bearing her cubs.
"You do not get in the way because I will destroy you. I'd never compromise on it.
"It's a bit rigid but that rigidity makes me who I am and what I do.
"I'm happy I'm in a good place and I'm not about to let anything distract me from where I'm going.
"The Olympics are 10 weeks away but it's 10 weeks of work, so I'm just focusing on making sure that I put everything in place. Me and my coach are not going to fuss too much with details right now."
Ohuruogu helped Great Britain to gold in the 4x400m relay at the World Indoor Championships in March, but she feels the team performance was more important than her individual showing.
"It was a nice boost but it was great for the team more than it being good for any individual person," she said.
"We came together, supported each other and came home with a gold medal. It's not often we get a 4x400m gold at a main event.
"It was just a small piece of the story. It was nice to run but it was nothing unusual for me.
"It's what I expect to run at that time of the year. I was just running what I felt my body could run."