London 2012: Usain Bolt not concerned about Dwain Chambers
Last updated on .From the section Olympics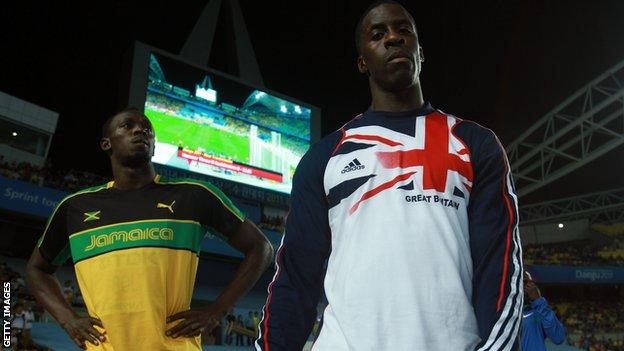 Usain Bolt says he has no qualms about racing against Dwain Chambers ahead of their 100m clash in Ostrava on Friday.
The pair could face each other at London 2012 after Chambers won the right to compete at the Games when a by-law that banned drug cheats from competing at Olympics was overturned.
"Rules are rules," Olympic and world champion Bolt told BBC Radio 5 live.
"If the rules say it's OK for him to come back then who am I to complain? There are rules for a reason."
The 25-year-old added: "I'm just focused on whoever is beside me in a race and I'll compete at my best."
Friday's 100m race in Ostrava, Czech Republic, will be the first time 34-year-old Chambers will have competed against the world's fastest man in an individual race outside of a major championship.
"No matter what happens, whenever you get a chance to race against Usain you can only get the best out of yourself," Chambers said.
"He's in 9.82 [seconds] form and he's probably going to get faster and faster so I've just got to do my best to keep close to him."
Chambers's only competitive race over 100m this season saw him record a time of 10.52secs in Puerto Rico, his second slowest time in 15 years.
"It was a difficult race to go into because the BOA-Cas decision had come out 10 days prior and I hadn't got my mind around what happened," he told 5 live. "I make no excuses, I performed badly.
"I'll just have to take my time with it and when my mind and body are gelling as one hopefully I'll be able to perform better."
The Briton needs to achieve the Olympic 'A' qualifying standard of 10.18 for a chance to compete in London, and then finish in the top two at the British trials to gain automatic selection.
He hopes that racing against the best in the world, starting in Ostrava on Friday, will help him reach that mark.
"It's given me nerves I haven't felt for such a long time and good, competitive nerves," he added. "I go into the race just thinking about running, whereas in the past I've been thinking about other stuff.
"I just want to see how I do against the big guys.
"It's going to be tough but I need these big competitions to get the best out of myself."
Jamaican Asafa Powell, a former 100m world record holder, trained with Chambers earlier this year in the Caribbean and is backing the Briton.
He said: "Dwain is working hard. He really deserves this. Ever since he's been here I was hoping that he'd get the chance to run at the Olympic Games so I'm happy for him."
Canadian Ben Johnson, who was stripped of the 100m gold medal at the Seoul Olympics in 1988, also believes Chambers should be allowed to run.
Johnson said: "He deserves a second chance, yes, everybody deserves a second chance in life. Nobody should point a finger and say he's bad and that."