London 2012: Imran Sherwani on goals, golds and Barry Davies
Last updated on .From the section Olympics
"Where were the Germans? But frankly, who cares?"
Rewind the clock 24 years and legendary BBC commentator Barry Davies had just seen Imran Sherwani grab his second goal of the match to put Great Britain 3-0 up over West Germany in the 1988 Olympic final.
Sherwani and his team-mates won the gold medal with a 3-1 win in Seoul - and thanks to Davies' memorable line the former left-winger is reminded of his great moment on a weekly basis.
"Ah, the famous commentary from good old Barry," Sherwani told BBC Sport.
"I always get asked about it. I rarely go a week without someone mentioning it to me.
"Barry is a fabulous supporter of hockey and he has stated that it was one of the greatest moments he has witnessed at an Olympics.
"The fact that I scored two in the final and had the famous commentary puts me to the fore but it was very much a team effort."
Sherwani, 50, had already been through tough times as an amateur sportsman before tasting the highs of an Olympic gold at the age of 26.
He should have been on the pitch in Los Angeles four years earlier as GB won bronze but he was robbed of his place by a knee injury. Sherwani took the decision to travel to California and watch from the stands, but couldn't help but fear that he was witnessing his only chance of glory slipping away.
"I was selected for 1984," he said. "I had the team blazer and the tracksuit sent out to me but then two weeks before we were due to fly out my knee blew up.
"I had to make the phone call and withdraw. It was devastating.
"As much as I was chuffed to bits that the guys had won a bronze, I thought I'd missed my chance and was totally devastated that I wasn't a part of it.
"Olympics don't come around very often and it's all about being in the right place, in the right team, at the right time.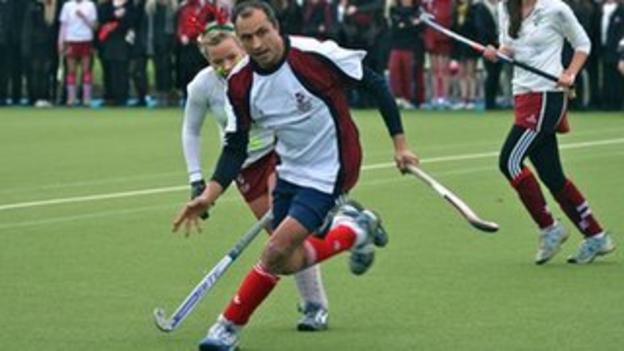 "Luckily, I got a second chance in South Korea."
Four knee operations later Sherwani was back in his rightful place on the left flank, and after helping England to a World Cup silver in 1986 and European silver in 1987, the time was right for gold in Seoul.
A late 2-1 defeat to Germany in the group stage threatened to derail GB, but Sherwani credits a "cleverly staged" row between coach Roger Self and captain Richard Dodds - who lost his job as a surgeon to make the trip - as the turning point.
"The manager tore into us and told us we didn't deserve to wear the GB badge and we'd thrown it away," Sherwani said.
"All the guys got behind the captain, who told him he was talking nonsense, and we had great sprirt after that, all the troops were rallying together.
"We were enclosed in a cocoon in the Olympic village in Seoul, we were far away from everyone and we didn't appreciate what was going on back home at all.
"But we knew we could beat the Germans in the final and to score twice was amazing."
Sherwani turned down the chance to play in another Olympics in Barcelona, and after spending 12 years as a financial adviser he is now back in the game as director of hockey at a private school in his native Staffordshire.
"It's a Hogwarts type of place in a lovely setting, it's in 100 acres of countryside," Sherwani said.
"We have 600 pupils and it's a fantastic place to come and work."
With sons Zachary and Joshua continuing the family hockey tradition - begun by Imran's father Asrar - there could yet be more Olympic glory to come in the Sherwani household.
Sherwani believes home advantage will help the class of 2012 as the next generation of hockey players seek to become household names in London.
"It willl be such an amazing experience to play this year in a home Olympics," he said.
"I went to the test event a few weeks ago and it was sold out.
"The women are in with a very good shout for the gold. They have beaten Argentina, who are the world champions, so why not?
"The men are in with a shout of a medal as well, especially on home soil. They won't have it easy but the crowd can be the 13th man."
in their opening match this summer at 1900 BST on 30 July.
And with Barry Davies in the commentary box for his 12th summer Olympics, we could see another gold-medal moment that will still be talked about in another 25 years.