London 2012: Judoka's Kosovo Olympic bid turned down
Last updated on .From the section World Olympic Dreams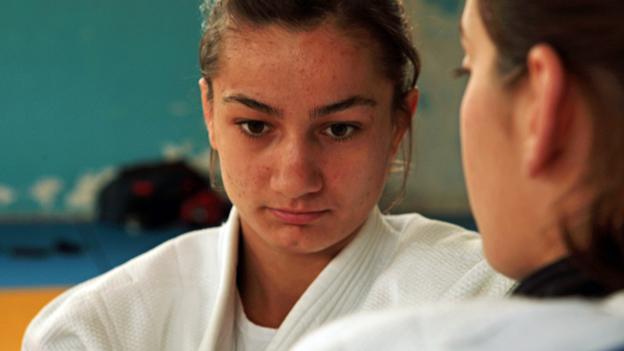 Judo fighter Majlinda Kelmendi has been told she cannot compete for Kosovo at this summer's Olympics.
Although Kosovo declared independence from Serbia four years ago, it is not formally recognised as a nation by the International Olympic Committee (IOC).
The IOC also turned down Kelmendi's request to compete as an independent athlete and she will now represent Albania at London 2012.
"It is not good news," she said, after the decision was announced.
"I was born in Kosovo and became an athlete in Kosovo and have enjoyed the greatest support in Kosovo.
"This is nothing more than just politics. There are many states that do not support and do not want Kosovo.
"Unfortunately, Kosovo is a small country and maybe not that strong politically for the time being, and it is not strong enough to influence some things."
The Balkan state, whose population is made up of ethnic Albanians and Serbs, has been campaigning for international recognition since seceding from Serbia in 2008.
And although 90 countries now support its membership of the United Nations, opposition from Serbia, backed by Russia, has impeded the campaign.
Kosovo's quest for sporting recognition has met with similar resistance. Very few of the world's sporting federations accept Kosovo as an independent state, leaving many of Kosovo's top athletes unable to compete at international tournaments.
World football's governing body Fifa became the sixth organisation to recognise Kosovo last month when President Sepp Blatter announced that Kosovo had been given dispensation to play friendly matches - a decision that will eventually lead to full membership.
Majlinda Kelmendi holds both Albanian and Kosovan passports and in 2009 won gold at the world junior championships under the Albanian flag.
In recent years, she has competed at tournaments as an independent athlete because the International Judo Federation (IJF) has not, until recently, acknowledged Kosovo's independence.
In May she secured her place for London 2012 by finishing fifth in the Olympic qualification rankings.
Fearing she would not be allowed to represent her homeland, the Kosovan Olympic Committee asked the IOC if she could fight as an independent athlete, following the precedent set when four athletes from East Timor did so in 2000.
However, the IOC took the view that as Kelmendi has previously competed as an Albanian, she should do so again in London.
"She received Olympic scholarships for Albania, she has an Albanian passport, the Albanian national Olympic committee is ready to select her for the Olympic Games and, as the conditions were not met to participate under the Olympic flag, she will be able to participate under the Albanian flag," said IOC president Jacques Rogge.
Kelmendi's coach, Driton Kuka, missed out on his chance to compete in the Olympics when war broke out in Yugoslavia ahead of the Barcelona Games in 1992, and he joined the Kosovan Liberation Army.
The majority of Kosovo's inhabitants are ethnic Albanians so the decision to ask Kelmendi to compete for Albania is an acceptable compromise.
"Finally, we are all Albanians. It is good that I can at least compete for Albania. Not like my coach, who was unlucky not to go at all," she said.