London 2012: Luol Deng's insurance could cost £300,000
Last updated on .From the section Olympics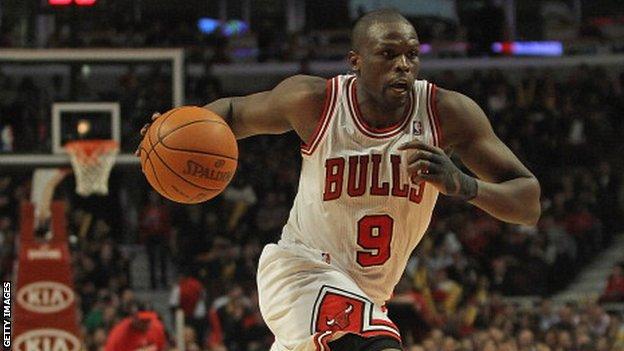 Great Britain basketball officials face having to pay a hefty premium to insure star player Luol Deng for the Olympics.
The cost of insuring the Chicago Bulls player could be more than £300,000.
Deng, 27, injured a ligament in his left hand in January but continued playing for his NBA club instead of having an operation.
Although Chicago wanted him to have surgery at the end of the NBA season, Deng insisted that his appearance for GB in the Olympics was his priority.
"We didn't get involved in that discussion - we let it run its course," said GB's performance director Chris Spice. "But he was adamant he was playing at the Olympics and let the Bulls know that the moment they finished in the play-offs.
"There are mixed views on this. There are some people who think he should have [surgery] and some people who think it's not necessary. We're pretty hopeful the price will come down."
The fact that Deng's is a pre-existing injury drives the cost of insuring him higher.
"The first quote was more than that [£300,000] but we're trying to get it down," said Spice. "Basically, if he permanently put himself out of action, we'd have to be able to pay the Bulls £10m."
GB have previously had to provide separate insurance for Deng because of concerns over an old back injury.
That initially cost around £200,000 for the five games he played for his country in 2008 but the sum had been reduced in recent years.
Spice is confident insurance can be found and that Deng will play a full part in the Olympics despite the injury, which at one point threatened to end his season.
"He's going to get several weeks of rest - and he didn't get much of that in the Bulls' season," he said, acknowledging that Deng may have to spend less time on court in GB's warm-up games.
"We'll do the right thing by him. He knows his body better than anyone else and he'll have our medical people working with him," he said. "He will be in Houston when we start [training camp] and what he can do will depend on what the medical guys say."
Great Britain will play both Lithuania and Russia twice in Houston before returning to Europe for matches against France and Spain in early July.
After two games against Portugal in Sheffield, they travel to Belgium to face Tunisia and Belgium before meeting Olympic and world champions USA in Manchester.