Mo Farah warms up for the Olympics with London 10,000 win
Last updated on .From the section Olympics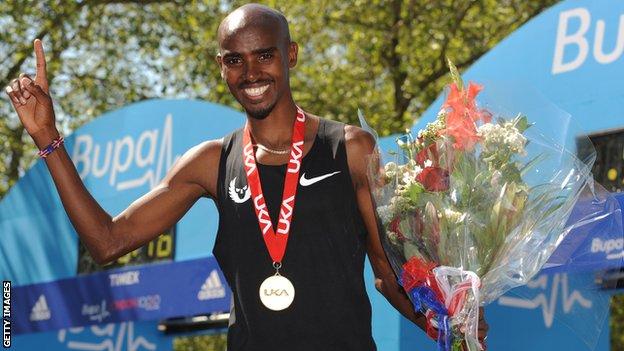 Britain's Mo Farah warmed up for the Olympics by winning the Bupa London 10,000m road race in a time of 29 minutes 21 seconds.
The world 5,000 metres champion took his winning streak to three after taking gold in both the 1,500m and 5,000m in California nine days ago.
There were concerns of fatigue over Farah, 29, but they now seem unfounded.
"It was good to test my fitness over 10km. I feel I am strong but need to get faster," he said.
Farah was forced to admit earlier this year that he had lost "his air of invicibility" following defeat in the 3,000m at the World Indoor Championships in Turkey.
"The indoor season was really disappointing, but you know as an athlete you've got to move on. That happens and my plans were always for the outdoor season rather than the indoor."
Farah was always in control throughout the race in London before sprinting clear with 200 metres remaining, giving him victory over Scott Overall, who will run the marathon for Team GB this summer.
The former shoe salesman finished third behind Japanese marathon runner Arata Fujiwara.
Farah added: "I am definitely pleased with the run. My main aim was to come out and win it, rather than worry about the time. And I did that."
Fellow Briton Mara Yamauchi won the women's race in 32 minutes 52 seconds.