World Cup Rowing: Three GB golds disappointing - Redgrave
By Piers Newbery
BBC Sport
Last updated on .From the section Olympics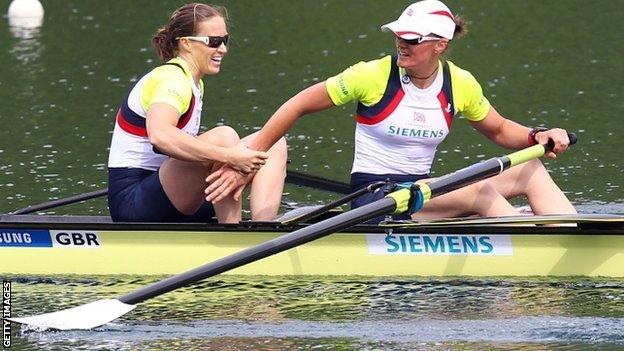 Great Britain's rowers topped the medals table for the second successive World Cup meeting - but they could do better, according to Sir Steve Redgrave.
The five-time Olympic champion watched GB win in Lucerne on Sunday, after taking four at the opening regatta in Belgrade.
"Overall I'm slightly disappointed in the British team so far this year but my target is four gold medals this summer, and that is still possible," Redgrave told BBC Sport.
"The women's pair and double scull look well on their game, the men's four are favourites with the Aussies snapping at their heels, and the men's lightweight double and lightweight coxless four still have great chances. All five of those boats could take gold on their day.
"There are big questions around the men's sculling and the selection for the Games will be done before the next race, but I can't see a lot of changes being made. If I was going to criticise anything, it would be that the men's sculling group should have been sorted out earlier.
"I know they had illnesses at key times and trials through the winter, but in Olympic year everything comes around very quickly, everyone's on their game, and you can't afford to be behind the game. We've let everyone have a little headstart.
"Still, we've got spares who have won silver medals at the World Championships for the last two years. There are 14 categories of boats and they're not on the team; that shows you just how strong the squad is.
"Three golds, one silver and one bronze is a great performance, the best of any nation in Lucerne - and yet I'm disappointed because our standards are so high. But I'd rather have that disappointment now than in the first four days of August."
Women's pair (Helen Glover & Heather Stanning)
They are looking solid. The New Zealanders didn't look at their best in Lucerne and are still going to go faster, but I think our pair have got the measure of them.
It's easy to say that but they had an outstanding season last year and just got pipped at the World Championships, and there was a little bit of inexperience in that.
They have another winter under their belts and what they did at the first World Cup race and repeated in Lucerne was very, very impressive.
Women's double scull (Katherine Grainger & Anna Watkins)
Katherine and Anna looked very impressive and imposing on Sunday, much more so than three weeks ago. I wasn't that impressed with them in Belgrade. It's a funny thing to say of the twice world champions but it might have been nerves.
As it gets closer to the Games there's more and more pressure and these are stepping stones towards the big one, which is coming rather quickly now, but I think they're in a good place.
Could the Australians give them a run for their money? Maybe, but it's unlikely I think.
Men's lightweight double scull (Zac Purchase & Mark Hunter)
They were off all weekend - they didn't look at their normal class but they're normally very, very consistent, and even when they're not quite on it they're usually competitive.
But they still have the confidence of what they did to win the 2011 World Championships after a disrupted year.
We know they have that in the bag, we know they can win the World Championships and Olympics because they've done it before, they just have to make sure their training and preparation is right.
So I'm a little concerned but not overly, they've turned it around before.
Men's four (Alex Gregory, Peter Reed, Tom James, Andrew Triggs Hodge)
They set the world's best time on Friday when they weren't really going out for that, I'm told, so to have that under your belt is very comforting.
They're not really a fast-starting crew, they stay within the pack and then come hard, and it's always nice to know your second half is faster than your first - especially if you can get to halfway knowing that.
The Australians were very impressive and at one stage I thought they were going to hold on, but in the last 100-150m our guys came through. Was that a change of pace from our crew or Australia struggling a bit?
I think it will be really interesting in Munich in three weeks' time, and even more at Dorney this summer.
I had thought it was almost a bolt-on gold medal for Britain - now I'd say it's still moving in their direction, but it's not a certainty.
Men's lightweight four (Paul Mattick*, Rob Williams, Richard Chambers, Chris Bartley)
Lightweight four is another I'd put into my top five. They will be disappointed with a bronze but they're carrying a sub and they weren't that far off. They also beat the Danes, who I thought were very impressive three weeks ago.
* Paul Mattick replaced the injured Peter Chambers in Lucerne.