London 2012: Nervous wait for GB weightlifters after Olympic trials
By Nick Hope
BBC Olympic sports reporter
Last updated on .From the section Olympics
It was a anxious set of athletes who took to the stage of the Postmill Centre in South Normanton, Derbyshire last weekend for the final London 2012 trials.
A high-pressure situation where some would edge closer and others further away from the realisation of their weightlifting Olympic dream.
Commonwealth bronze medallist Zoe Smith excelled, breaking six -63kg British records, but there were others, such as Natasha Perdue and Jack Oliver, who failed to attain lifts and are now left to rely on the goodwill of the Olympic selection panel.
"Sport is always going to have highs and lows and unfortunately I have to make some quite hard decisions," GB weightlifting performance director Fiona Lothian told BBC Sport.
"The selection policy is quite clear though, everybody is now going through on the Olympic B standard and it's really on [Rio] 2016 potential and the progress they have made in the last few years."
Athletes will be informed of the selection panel's decision in the next week with the GB Olympic weightlifting squad set to be announced by 11 June.
With nine candidates for five host-nation places, three male and two female, it gives the selectors plenty to ponder.
Jo Calvino (-48kg division): 18/08/80
A former British diver who has made significant improvements since coming down from the -53kg division which she competed in at the 2010 Commonwealth Games.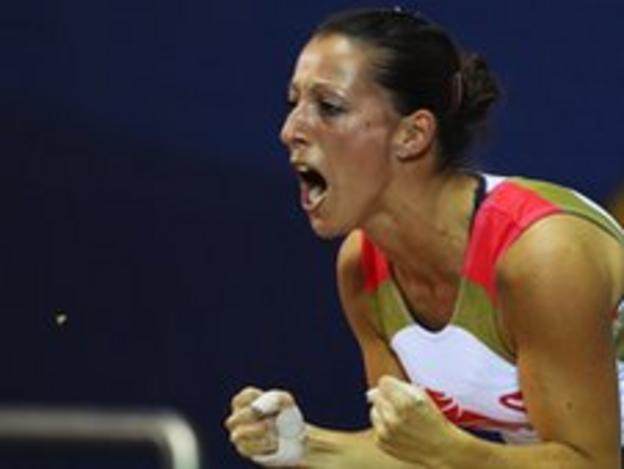 Aside from Smith, Calvino is GB Weightlifting's most consistent performer over the last year, finishing tenth at the European Championships and equalling her own clean and jerk British record at the Olympic trials.
"I came into the sport when women's weightlifting wasn't in the Olympics so for me it's been quite a long journey," said Calvino, "but to be in an Olympic Games in my home town would be phenomenal."
The biggest obstacle in her way though could be age.
At 31 it is not certain that she will be in contention for the Rio 2016 Games and the sport's selection panel may opt for a younger athlete.
Zoe Smith (-58kg division): 26/04/1994
Put simply, she's the poster-girl of British weightlifting.
Smith has broken over 350 records since switching from gymnastics when she was 11 and became the first female English weightlifter to win a Commonwealth medal when she claimed bronze in Delhi two years ago.
Not all stories have been about Smith's success though. At the end of 2010 the teenager had her public funding withdrawn by the sport's governing body after an argument over her attitude in training.
It was restored in early 2011 and Smith joined British Weightlifting's high-performance centre in Leeds, but this move ultimately did not work out and the Greenwich-born lifter returned to the capital this year.
Thriving once more, the 18-year-old is the only GB athlete to attain the Olympic A standard - which she achieved in the -58kg division at April's European Championships and again at the final Olympic trials this weekend, in the higher -63kg class.
"It's been a bit of a rollercoaster," admitted Smith, "hopefully I've done enough though."
"It's bad to say I'm disappointed with personal bests, but I think I could have gone higher so hopefully by the Olympics I'll be lifting more."
Although she has not guaranteed automatic selection, as two A grade lifts were required in the same category, it is near unthinkable that the sport would chose not to select the athlete who represents their best chance of success at London 2012.
Emily Godley (-63kg division): 22/10/89
The 22-year-old, who's favourite saying is "You're only as strong as your weakest link," combines lifting with final-year forensic science studies at St Mary's University College, London.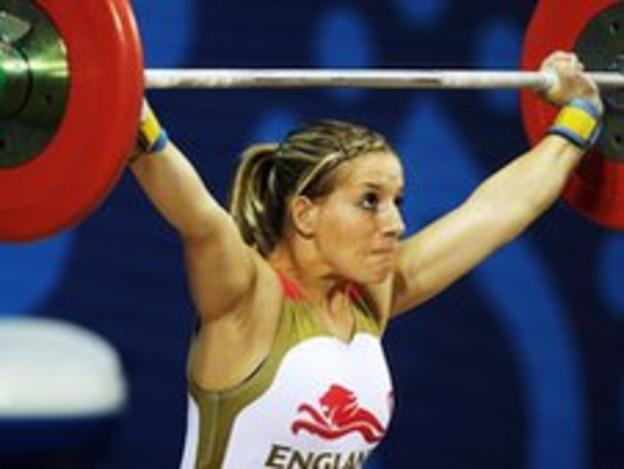 Godley finished second in the -63kg class at the trials with a total of 182kg, but was not overly happy with her performance.
"Average performance at the British Champs this weekend, now forcing myself to revise for another exam tomorrow #struggling" she tweeted.
Age is certainly on Godley's side and she has shown potential.
She competed at the 2010 Commonwealth Games and finished 11th at the World University Games in Shenzhen, China.
Natasha Perdue (-69kg division): 27/07/75
Ahead of the Olympic trials the former Welsh karate champion was arguably the prime candidate for the second female host-nation berth at London 2012 - coming within eight kilograms of the 218kg A standard.
Her father, Terry, competed at the 1968 and 1972 Olympics and she has spoken of her desire to at least match his achievement of a top-ten finish at a Games.
"[The memory of] my father drives me to train. He never saw me weightlift."
"I never thought [the Olympics] it was realistic. Now it is realistic and it's my only chance of getting to an Olympics," said Perdue ahead of the GB trials.
Perdue, who combines training with work at a Leeds City Council refuse collection centre, dazzled in the snatch phase of the British Championship, with a new personal best of 98kg.
However, the 36-year-old could not match that performance in the clean and jerk and in failing to achieve not only the A standard but even a registered lift, her Olympic ambitions took a serious knock.
Shaun Clegg (-69kg division): 13/10/92
A new British junior record of 123kg in the snatch helped Clegg towards a surprise Olympic B standard total of 273kg at the trials.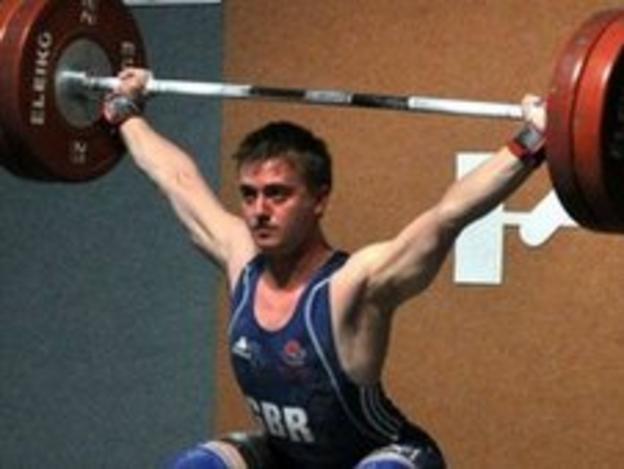 After struggling at the World Juniors in 2011 the 19-year-old lifter moved down from the -77kg division to the -69kg and has thrived away from GB team-mates Jack Oliver and Halil Zorba who dominate the heavier class.
"He's threatened a few times around the B standard, but that was good lifting from him [in South Normanton] and the decision to come down has put him back into contention," Lothian told BBC Sport.
Although viewed as an outsider for selection, Clegg certainly peaked at the right time.
With age and the fact there are three male positions up for grabs on his side, the 19-year-old could be a surprise inclusion in the Team GB squad.
Gareth Evans (-69kg division): 18/04/86
The Hollyhead lifter has sacrificed more than most in his bid to reach London 2012.
Evans gave up full-time employment and only sees his partner and young daughter a couple of times a month having re-located to Leeds to train full-time with the GB last year.
The 26-year-old achieved the Olympic A standard of 283kg in training ahead of the European Championships, but has failed to achieve that total in competition.
"Unfortunately the BOA aren't going to select me on sacrifice," admitted Evans.
"It's horrible going from full-time work and being able to put my hand in my pocket and buy whatever I want, to being on pennies and not being able to do that - but if I get selected, everyone's happy."
Evans would be 30 come Rio 2016, so potentially could still be competing in four-years-time, which will aid his London bid, but whether he would want to sacrifice more time with his family is open to debate.
Jack Oliver (-77kg division): 04/01/91
English Commonwealth lifter Oliver is predicted to have a bright future in the sport, but his temperament was brought into question after failing to achieve a registered lift at the Olympic trials.
He achieved new personal best totals at the World Championships in Paris last year and like Evans has attained the Olympic A standard in training - however he has not been able to match that in a competitive environment.
Oliver hit the required B standard at the Europeans in April though.
In terms of potential for Rio 2016, the selectors may well decide that lifting in London would provide him with an experience which could help his performances at future major events.
Halil Zorba (-77kg division): 22/09/88
His name heralds from his Turkish-Cypriot heritage, but the London-born weightlifter represented England at the 2010 Commonwealth Games.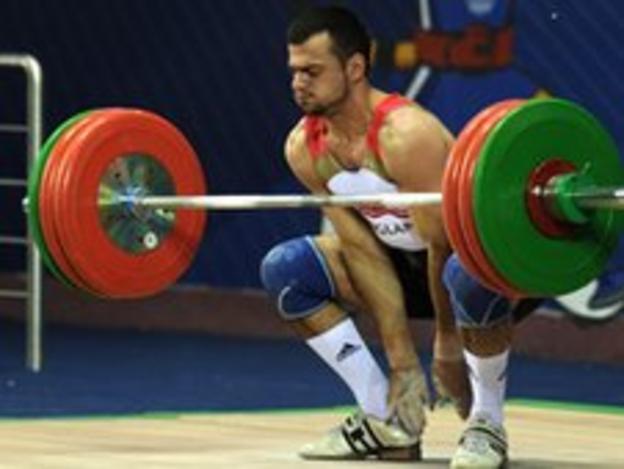 Zorba is a full-time civil engineer who does not regret the decision to split his time between work and training.
"It's a once-in-a-lifetime opportunity for most of us to actually compete at the Olympic level, so if I do make the team I will be extremely overjoyed," Zorba told BBC Sport.
"I want to have a career and be a world-class athlete, so balancing the both for me is what I call world-class."
He lifted 292kg at the trials to take the British Championship crown and is a leading candidate for one of the three male Olympic host-nation berths.
Peter Kirkbride (-94kg division): 19/12/87
Scottish Commonwealth silver medallist Kirkbride has endured an injury-plagued couple of years since his medal winning performance in Delhi.
He achieved the Olympic B standard at the London 2012 Wrestling test event in December last year with a lift of 320kg.
However, Kirkbride could only increase that by five kilograms at the British trials.
"Sometimes I look back on my previous successes and think, 'I've done this before I should be doing it now', but I've had a few bad competitions and it's just a case of picking myself back up and doing the hard work."
The Scottish lifter certainly has the potential to be around for Rio 2016 and will be focusing on a home Commonwealth Games in Glasgow two years from now.
His progression has stalled in recent years and performance director Lothian admitted it would be 'interesting to see' what the selection panel read into this.