Aaron Cook 'could not believe' Team GB Olympic omission
By Nick Hope
BBC Olympic sports reporter
Last updated on .From the section Olympics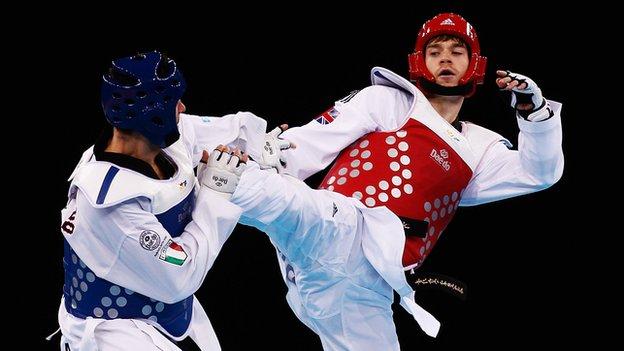 European champion Aaron Cook has confirmed he is requesting that the British Olympic Association (BOA) review GB Taekwondo's decision not to nominate him for London 2012 selection.
The fighter will become world number one in next month's rankings, but Lutalo Muhammad, world number 93, is the sport's preferred -80kg candidate.
"This is my whole life," said Cook.
"I first heard of the decision not to select me on Friday, 11 May. I could not believe what I read."
In a statement on the Professional Sports Group website he continued: "I have followed the appeal process of British Taekwondo and made an appeal to Sports Resolution Ltd, which was my right under the selection policy of British Taekwondo.
"This has cost me a significant amount of money. I cannot discuss the findings of this appeal for legal reasons. Suffice to say that the letter I received on Saturday, 25 May from British Taekwondo following their second selection meeting confirmed that I had not been selected again.
"I now have no option but to request that the BOA review the selection."
The BOA has confirmed to BBC Sport that it will meet on Tuesday to discuss GB Taekwondo's athlete nominations for London 2012.
Even before Cook's statement was released, it was believed his absence from the athlete nomination list was to form a key part of the Olympic Qualification Standards (OQS) panel's review.
The panel will include Team GB leaders Andy Hunt and Sir Clive Woodward who, together with Mark England and Sarah Winckless, will have the final say in who represents Team GB at an Olympics. They could veto a selection decision by GB Taekwondo.
GB Taekwondo said it was commonplace for the panel to carry out a review "where nominated athletes have not had to achieve Olympic qualification, as is the case for Britain's taekwondo team who have been awarded their places at the Games as we are the host nation".
Cook quit the GB programme in June of last year following an "embarrassing" first-round elimination at the World Championships in South Korea, which the fighter saw as being a direct result of the "negative" tactics he was being forced to adopt.
Since then he has recruited coaches and support staff to form "Team Cook" with the clear aim of winning Olympic gold in London.
Cook was defeated by Muhammad as the 20-year-old Londoner went on to claim German Open silver in March, but Cook avenged that defeat at the Dutch Open, one of nine tour titles he has attained in the last year which includes success at the Olympic test event.
The Dorset-born, but Manchester-based, fighter has drawn huge support since the news of his absence from Olympic nomination was first rumoured on Friday.
Former team-mate John Cullen insisted Cook "must go" and equated not selecting him would be the equivalent of "Barcelona dropping Lionel Messi".
Four-time Olympic champion rower Sir Matthew Pinsent, who acted as a mentor to Cook ahead of the Beijing Olympics, said on Twitter: "There seems to be no doubt that Aaron Cook has fallen victim to small-time sports politics - come off it, Team GB demands better."
British Taekwondo was not available for comment on Monday and will not meet with the BOA until the selection panel have reviewed their athlete nominations and considered whether further action needs to be taken.
However GB Taekwondo later issued a statement confirming it has nominated four athletes to British Taekwondo, which in turn has forwarded these to the BOA for ratification.
It added: "Selection of these athletes has involved some difficult decisions.
"The process has been conducted in accordance with a selection policy that has been shared with and signed by every athlete that has applied to be considered for Olympic selection.
"The selection panel's primary aim has always been to select athletes who have the best potential to win the best set of medals for Great Britain.
"The team announcement will be made by the BOA in due course."