London 2012: Pakistan hockey's road to the Olympics
Last updated on .From the section World Olympic Dreams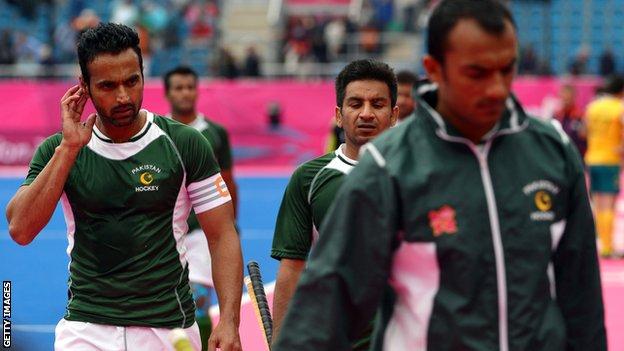 LATEST NEWS - 2012
Tue 07 Aug 12: After Pakistan failed to progress past the group stage at the London Olympics,
Pakistan needed to win their last game to reach the London 2012 semi-finals but Australia proved too strong, beating them 7-0.
"If you are losing, losing, losing, people don't want to come and play hockey," Siddique said.
"It was really disappointing because Australia beat Pakistan by a tennis score. We used to win by five, six seven goals and now we are losing by the same score."
Sun 03 Jun 12:Pakistan have finished last in the Azlan Shah Cup.
Victory against Argentina in the first game was followed by a run of five defeats to New Zealand, Korea, Malaysia, India and Great Britain.
"This is really embarrassing and alarming for Pakistan," said Hassan Sardar, a former Olympian.
Tue 31 May 12:The Pakistan Hockey Federation (PHF) has decided to fine the eight 'rebel' players that took part in the unsanctioned World Series Hockey (WSH) in India.
Fri 16 Mar 12:The PHF have sacked head coach Michel Van den Heuvel.
"We had no option but to release him because he breached clauses of his contract with us," claimed Qasim Zia, president of the Pakistan Hockey Federation (PHF).
Thu 05 Jan 12: The BBC's Aleem Maqbool has visited the Pakistani town of Gojra to find the school that has produced no less than 57 international players for its country.
One player who now plays for Pakistan, Muhammad Irfan, recalls his time at the school.
"We were nothing before we went to MC High School," he says. "Now I am playing for my country and it is all because of the start that I got. As pupils we felt everything was possible when it came to playing hockey."
LATEST NEWS - 2011
Thu 29 Dec 11:The PHF has taken legal action against players who accused its staff of human trafficking.
The PHF are reacting after several Olympians wrote a letter to the prime minister urging him to hold an inquiry into the body's affairs.
PHF secretary Asif Bajwa said: "We have today sent legal notices for damages to these Olympians and they now have to either prove their allegations, apologise publicly or pay us damages in court".
Mon 26 Dec 11:The PHF has threatened players who decide to play at unsanctioned tournaments with five-year bans.
The Indian World Series Hockey is tempting many Pakistani players with lucrative offers but is not recognised officially by the International Hockey Federation.
PHF President Qasim Zia said: "The council has unanimously agreed that all those players who defy the PHF and go and play in any tournament that is not sanctioned by the International Hockey Federation will be immediately banned for five years and would not be able to play in Pakistan".
Sun 25 Dec 11: Pakistan defeated China 2-1 in their latest test series to clinch the Friendship Trophy.
First half goals from Shakeel Abbasi and Fareed sealed the victory to complete a 4-0 series whitewash.
Sun 11 Dec 11: Pakistan narrowly avoided finishing last at the 2011 Champions Trophy.
After losing to Great Britain, Spain, Australia and Germany, Pakistan beat South Korea in their last game to finish seventh out of eight teams.
"It's still a long way to the Olympics and, taking a realistic approach, we know we're still behind the top teams, but we're working hard," said manager Khawaja Junaid.
Fri 04 Nov 11:Pakistan have beaten world champions Australia 4-3 at a tri-nation hockey tournament in Perth.
Pakistan's president and prime minister were quick to praise the players in a message to the team.
"The Pakistan hockey team by clinching the tri-nation title have made the nation proud. We hope that the national hockey team will continue to bring laurels for the country through their exceptional performance in future as well," they said.
Sun 11 Sep 11: Pakistan were defeated on penalties by India in the final of the inaugural Asian Champions Trophy.
Pakistan failed to convert the eight penalty-corners they won before the final whistle and with the teams deadlocked at 0-0, India won the penalty shoot-out 4-2.
"We were unlucky," said manager Khawaja Muhammad Junaid. "We deserved to win because we kept India under pressure throughout the match. But reaching the final is itself a big achievement."
Sun 15 May 11: Pakistan have lost 3-2 to Australia in the final of the Sultan Azlan Shah Cup in Malaysia.
"This was Pakistan's best match against the world champions Australia in recent years. All in all it was a successful and satisfying event which revived Pakistan's hockey reputation," said manager Khawaja Muhammad Junaid.
LATEST NEWS - 2010
Thu 25 Nov 10:Pakistan have won gold at the Asian Games and qualified for the London Olympics.
They saw off Malaysia 2-0 in the final, thanks to goals from striker Rehan Butt and 35-year-old Sohail Abbas.
"Now our focus is on the Olympics as Pakistan hasn't won an Olympic gold for quite some time and this team has the ability to win a gold in London," said captain Zeeshan Ashraf.
Tue 12 Oct 10: Pakistan have lost 3-2 to South Africa to finish sixth at the Commonwealth Games.
Rehan Butt scored twice to put Pakistan ahead but South Africa won the game with a golden goal in extra-time.
Sun 10 Oct 10:India have knocked Pakistan out of the Commonwealth Games.
Following the 7-4 defeat, a host of former Pakistan stars have come out and criticised the Pakistan Hockey Federation.
Sat 9 Oct 10: After beating Scotland and Malaysia in their first two matches at the Commonwealth Games, Pakistan have lost 1-0 to Australia.
Fri 24 Sep 10:Khawaja Junaid has been named senior team coach of the Pakistan hockey team for the Commonwealth Games and Asian Games.
Tue 21 Sep 10: Pakistan lost 8-2 to the Netherlands in a fund-raising match for victims of recent flooding in Pakistan.