London 2012: Frances Houghton's last opportunity for Olympic gold
Last updated on .From the section Olympics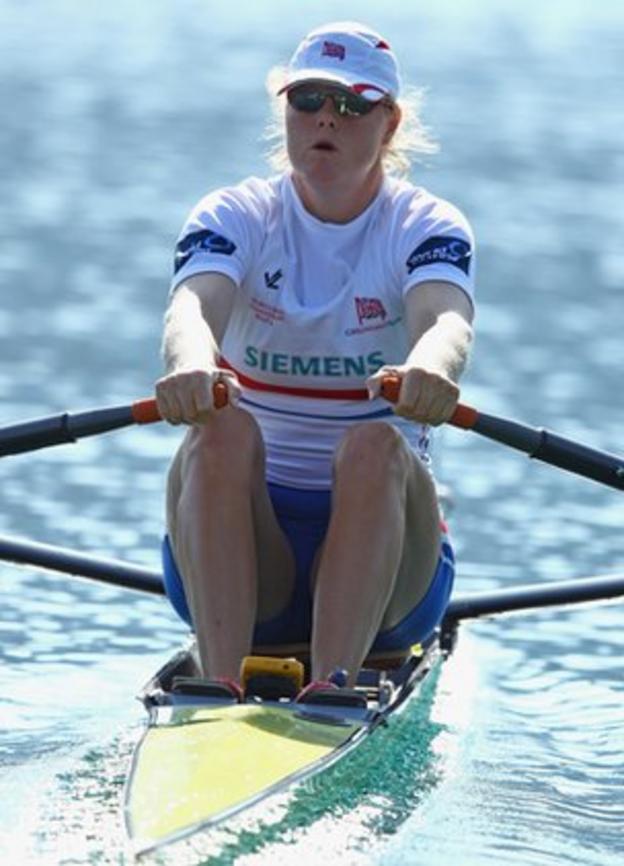 Oxfordshire rower Frances Houghton has set her sights on taking her last opportunity to win Olympic gold.
The 32-year old is the longest serving member of the British rowing team, and won silver medals at both the 2004 and 2008 Olympics.
But the quadruple scull competitor is determined to go one better this year and complete a feat that no other female British rower ever has, by taking Olympic gold at London 2012 in what will surely be her final games.
"It's an opportunity I'll never ever have again."
"When I was in Beijing, we crossed the finish line and we'd come second, and we would really, really have loved to have come first," she said.
"My first thought was; 'six and a half minutes ago I still had that opportunity and now I've got to wait another four years to create that opportunity again.
"Now, the opportunity to win in London, it's not as though I've got another four years - that's it."
As a youngster Houghton was encouraged to take up a sport at school and decided take part in rowing after going to watch competitions in her hometown of Oxford.
"I can't run, I can't jump so I might as well sit down and row," she said.
Houghton's career took off after winning bronze at the 1998 World Junior championships in the double sculls.
Since then she has had an illustrious career which has included four World Championship gold medals, alongside her two Olympic silvers.
Throughout her career, Houghton has had to deal with a gruelling training schedule, but she still remains as upbeat as ever about her rowing.
"For me it's not really hell because I really enjoy it," she said. "I love the feeling of moving a boat and I really love it when I do that well and I love it even more when I do it with people and we get that feeling together."
"I really dream about the Olympics and it's such an exciting prospect for me."
Houghton currently lives in Henley-on-Thames and rows for the local Leander Club.
The Olympic rowing events will take place on the lake at Eton Dorney just over the county border in Buckinghamshire and she is looking forward to benefiting from local support.
"Both the Olympics I've been to I haven't been able to hear the person one foot away from me shouting at me because it's been so loud," she added.
"The enthusiasm the British people have for sport is absolutely unparalleled. I think it's going to be an experience that could just blow us away."
Houghton's parents will certainly be close at hand as both have volunteered at the games. Her father will be driving the commentary car during the rowing races.
"I think they get very nervous and I think my mum just sees the inside of her palms for most of my races," she said.
The Olympic squad is named on 6 June, before the final World Cup in Munich.
Frances Houghton is one of BBC Radio Oxford's featured athletes as part of 'Olympic Dreams' in the build up to London 2012.