London 2012: Brazilian judoka Sarah Menezes looks to sweep up in London
Maria Luisa Cavalcanti
BBC Brasil, London
Last updated on .From the section World Olympic Dreams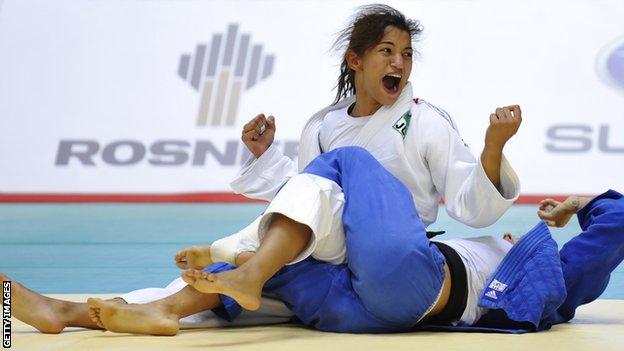 You could say this is a "Billy Elliot" sort of tale.
But instead of a boy having to hide his passion for ballet, here is a girl who worked hard to persuade her parents that she was a talented judoka - or judo player.
Sarah Menezes was only nine when she first joined a judo training session at her primary school - "just for fun", as she puts it.
Ten years later, in 2009, she won her second consecutive gold at the World Junior Championships and was named Brazil's female athlete of the year. Now, she is one of the country's best chances for a gold medal in the London 2012 Olympics.
Growing up in Teresina, the remote capital of Piaui, one of the country's poorest states, Sarah had to lie to her strict parents in order to keep practising.
"In the beginning, they used to say judo was not a girl's sport. Then, they would complain that being an athlete was a not a proper career.
"I would go to my training sessions anyway, sometimes saying I had to stay longer at school, sometimes asking the neighbour to take me secretly", she tells the BBC.
It was only when the first big national competition came up that Sarah's coach, Expedito Falcao, finally persuaded Rogerio and Dina Menezes.
"He told them I had a real chance of becoming part of the Brazilian team and of being a world-class champion. When my parents understood that I was taking judo seriously, not only did they allow me to train, but they also went round looking for sponsors, so I could travel to compete."
In Brazil, the best training facilities and the top national competitions for most sports are concentrated around Rio de Janeiro and Sao Paulo - more than 2,500 km away from Teresina. Athletes from other regions frequently have to move in order to pursue their careers.
"I am lucky that so far I have not had to leave my home town", acknowledges Sarah, now 20. "I am still training with the same coach, Expedito, and only have to travel when the Brazilian team requires me to."
Sarah practises every evening of the week, after attending classes at university - where she hopes to graduate as a Bachelor in Sports. In order to keep up with her international career, she also squeezes English classes into her busy schedule.
Like the other Brazilian judokas in the national team, Sarah is closely followed by physiotherapists, doctors, nutrition specialists and psychologists.
Ney Wilson Pereira, Brazilian national judo team coach, explains: "Our biggest fear is the risk of injuries so most of our training sessions are dedicated to injury prevention.
"But when an athlete like Sarah has a real chance to put their hands on an Olympic medal, we also work very hard on the psychological preparation.
"We have to protect them from the amount of pressure they face at the Games which could make them lose everything in a fraction of a second."
In a country which is far from being an Olympic superpower and where football gets most of the attention and investment, judo is somehow a privileged sport. It has given Brazil 15 of its 91 medals in the history of the Games - one less than sailing and volleyball.
However, it was only in Beijing 2008 that a Brazilian female judoka, Ketleyn Quadros, went up onto the podium for the first time, taking home a bronze medal.
In London 2012 Sarah, who is now in seventh position in the world ranking for her category (-48kg), could become the first female player to win gold, which would also be the first gold for a Brazilian woman in an individual sport.
"I am confident of my training and of what I do, and I know I have a real chance of doing well at the Olympics and other big competitions", she says.
On a cold but unusually sunny day back in February, Sarah had the chance to visit London's Olympic Stadium.
Excited by the view in front of her, she tried to imagine herself in the opening ceremony in two years' time, only to be reminded by her coach that judo will be one of the first sports to kick off at the Games and it is likely she will compete early in the morning on the very first day.
To get the gold, she will have to miss the big opening party and rest.