Venue profile for London 2012: Olympic Stadium
Last updated on .From the section Olympics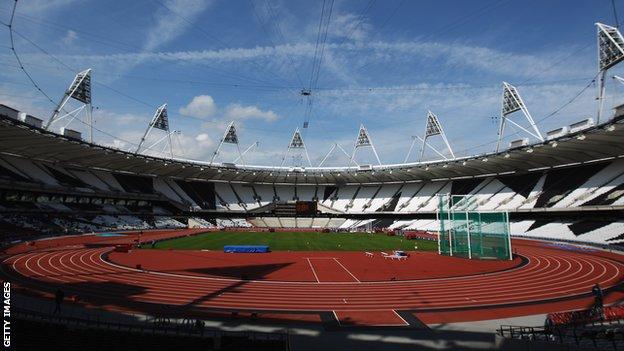 With the future of the Olympic Stadium a constant talking point, it is easy to forget the role it will play during the Games themselves.
The 80,000-capacity venue - which took just under three years to build - will host the spectacular opening ceremony on 27 July.
With that in mind, its designers, Populous, installed cables allowing scenery for the opening ceremony to "fly" across the "skyzone".
Athletics comes to the Olympic Stadium from 3 August and every effort has been made to enhance the experience for spectators and athletes.
For example, two-thirds of the seats are covered by a 450 tonne PVC roof. Mindful of world records being invalid if a tail wind is too strong, wind tunnel tests were used to determine the roof's design.
The evening sessions will be illuminated by 14 lighting towers, each housing up to 44 floodlights.
They were switched on for the first time by Prime Minister David Cameron at a special ceremony in December 2010.
The frame of the building is clothed in a £7m wrap made up of individual pieces of fabric that reach 900m (0.56 miles) long and 20m (67ft) high in total.
London Mayor Boris Johnson described it as "the final grand touch to the magnificent stadium''.
Legacy
The formal bidding process to use the stadium after the Olympics and Paralympics began in August 2010, with Premier League football club West Ham the favourites to move in.
However, athletics will be given a 99-year lease at the venue with the running track guaranteed to remain in place. It is due to host the 2017 World Athletics Championships.
The London 2012 stadium's lower tier, which holds 25,000 people, is permanent, but the upper tier is temporary and its concrete and steel structure holding 55,000 seats can be dismantled.