Jessica Ennis's British record delights Denise Lewis
Last updated on .From the section Olympics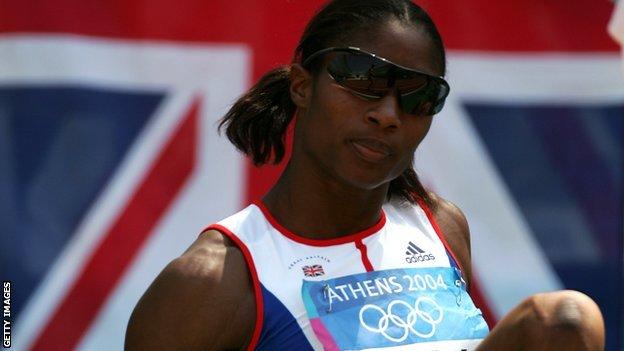 Former Olympic gold medallist Denise Lewis says she is "delighted" that Team GB heptathlete Jessica Ennis broke her British heptathlon record on Sunday.
Ennis' points total of 6,906 beat the old British best of 6,831 which was set by Lewis in 2000.
And Lewis, who won gold in the heptathlon in the 2000 Sydney Games, was full of praise for the 2012 Olympic hopeful.
"I'm delighted. It couldn't happen to a nicer person," she said.
Despite her quest for gold at London 2012, in recent big events Ennis has had to contend with disappointment.
She had to settle for a silver medal at the World Indoor Championships in March and lost her heptathlon world title to Russia's Tatyana Chernova in Daegu in August.
A week ago Ennis was denied a personal best in the 100m hurdles when the organisers at Great CityGames in Manchester failed to set out the correct number of barriers.
Nonetheless, her performance at the Hypo event in Austria over the weekend, setting a personal best in the 200m on her way to the record, will, according to Lewis, give her a confidence boost just weeks before the Olympics.
"From Jess's perspective it's just what she needed," Lewis told BBC Radio 5 live. "She had a difficult year last year, she needed this victory.
"It's all about confidence at this point and keeping that confidence going right through to London."
However, Lewis believes the 26-year-old from Sheffield can get even better.
"She can still secure more points," Lewis predicted.