Last chance to make 2012 Olympics for Martin Brockman
Last updated on .From the section Olympics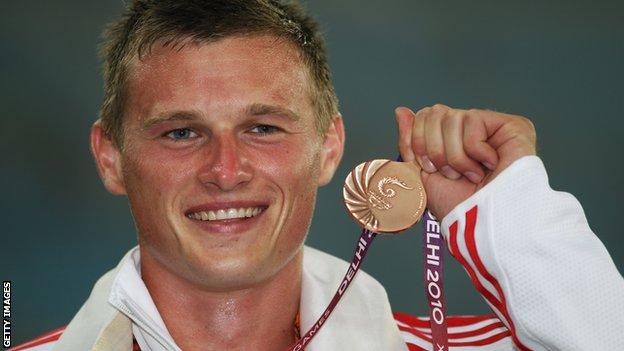 Maidstone decathlete Martin Brockman's 2012 Olympic hopes are fading after he withdrew during his latest competition.
The 24-year-old pulled out after a poor high jump at an event in Spain and will now miss the European Championships.
Daniel Awde attained the Olympic 'B' standard at the same meeting in Arona and Brockman must better that total to have any chance of reaching the Games.
"I'm going to have one more go at qualifying - there is still an outside chance," he told BBC Radio Kent.
He added: "I'm going to train like an absolute animal just to give myself a bit of a chance.
Brockman had targeted the event in Spain to achieve the qualifying standard for the European Championships in Helsinki in June.
However, after falling short of his best, he decided to withdraw from the competition to focus on training for another shot at qualification.
"If you finish a competition, you get similar fatigue to a marathon," he said. "It'd cost me another week of training if I were to finish the competition.
"I've gone away to train because the score he set is not something I'm going to do in my next competition, it's something I'm going to have to work really hard to achieve."
Awde's tally of 8,102 was a personal best and also ranked him fourth on the British all-time list. The total is nearly 400 more than Brockman's lifetime best.
To be selected for London 2012, Brockman must not only obtain the 'B' standard, but beat Awde's score in the process.
The Kent decathlete insisted he could still make Team GB, if he could return to a similar fitness level to his winter training in Australia.
He added: "I was cheering him (Awde) on but it was heartbreaking knowing that it's your chance slipping away.
"You only need someone to have a brilliant weekend and suddenly a score that you wouldn't expect comes from nowhere.
"I've got to go away and have one of those weekends.
"I should have scored 8,000 points in Australia but if I get myself back in that shape, I can give it a go.
"I know it's looking unlikely but if I were to give up now because somebody else set a great score then that would be foolish."