Shooters Georgina Geikie & Rory Warlow target 2012 success
Last updated on .From the section Olympics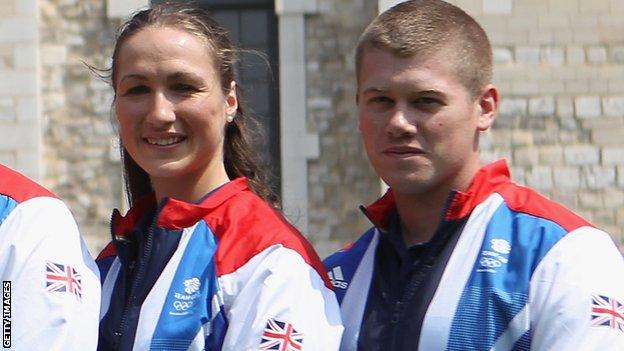 Devon shooters Georgina Geikie and Rory Warlow are both hoping to score personal bests at the Olympics after being named as part of Team GB's 10-strong shooting squad.
Pistol shooter Geikie, 27, and skeet shooter Warlow will both compete in their first Olympics this summer.
"If you're not in it you can't win it, so I'm going to give it my best," Geikie told BBC Radio Devon.
"I want to shoot a personal best, but a performance is what I'm going for."
Okehampton's Geikie, who won four medals at the 2010 Commonwealth Games, added: "If that performance is good enough to win a medal then that's a bonus."
Elburton-based former national champion Warlow, 22, has twice equalled the British record and is the top-ranked skeet shooter in the country.
He says he has been training just as hard physically as he has with his gun.
"We are athletes and I think that to have a very good level of fitness and strength can only help you.
"Being fit and healthy and having a good diet, all of those things contribute to a good performance.
"I want to shoot to the best of my ability and if I could shoot a personal best I'd be very happy.
"It's very special to be at any Olympic Games, but in your own country is a once-in-a-lifetime thing.
"I may get to go to other Games in the future but I'm never ever going to do the London Olympics again."