London 2012: Louis Smith's rival heaps praise on routine
By Ollie Williams
BBC Olympic sports reporter in Montpellier
Last updated on .From the section Olympics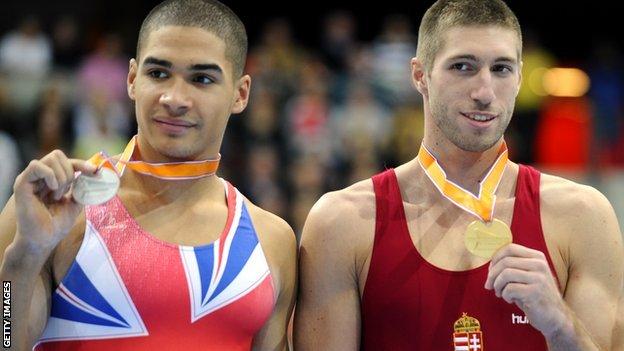 The man who stands between Louis Smith and Olympic gymnastics gold believes the Briton's routine will be the most difficult on show at London 2012.
Hungary's Krisztian Berki has won the last two pommel horse world titles and beat Smith to European gold last week.
But Berki told BBC Sport that Smith's hardest routine, if executed without errors, may be hard for him to match.
"His difficulty is very hard, very different from me. He has a very good routine," said Berki, 27.
"I'm just a 6.9 but I know Louis has a 7.1 or a 7.2," he said, referring to the difficulty score assigned to each routine in gymnastics.
The higher the score, the trickier the routine - and if nothing goes wrong, the gymnast with the hardest routine wins.
Very few gymnasts other than Smith and Berki are able to attempt pommel horse routines scoring in the region of 7.0 for difficulty.
Asked if Smith's toughest routine would outrank the hardest Berki can achieve, the Hungarian said: "Maybe. He's a good gymnast, he works very hard."
Smith, 23, criticised the judges following his defeat by Berki in Sunday's European pommel horse final.
Berki's score of 15.958 beat Smith's 15.775 after both were awarded a difficulty value of 6.9, Smith having elected to display a 'safe' routine rather than his hardest.
But the Huntingdon gymnast felt the judges in Montpellier had awarded Berki a higher difficulty rating than the Hungarian deserved.
Asked what it had taken to beat Smith, Berki said: "I don't know - today, I'm luckier than Louis. I felt so good.
"I have watched his exercises on the internet. I listened to the noise in the arena [while Smith competed] and then I did it.
"He had a small problem [in his routine] but he has a good routine and he's very young. Good luck for the Olympic Games, Louis."
Smith, speaking before the European final, said of Berki: "I don't look at him to pick up any tips or advice, I've got my own style, I've got my own name in the game. I don't need to worry about what he's doing.
"Potentially I've got enough talent in the bag to believe that I can beat him. He's a fantastic competitor, fair play to him, but I just focus on what I need to do.
"I don't like to say there's only two people in the running [for the Olympics], because that's not true, but if everyone hits their routines clean - then maybe."