BOA summons GB Taekwondo to explain Aaron Cook's omission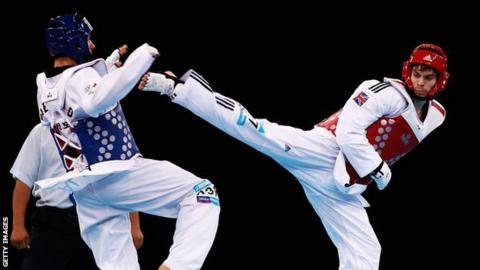 European champion Aaron Cook has been handed a London 2012 lifeline by the British Olympic Association (BOA).
The BOA has refused to ratify GB Taekwondo's decision to nominate Lutalo Muhammad.
A four-strong Olympic Qualification Standards panel, including Andy Hunt and Sir Clive Woodward, has summoned the sport's governing body for talks.
"The panel requests a meeting at the earliest opportunity with the British Taekwondo Committee," read a statement.
"With respect to the nomination in the Men's Under-80 kg weight category, we seek further information and clarification about the process by which the athletes were evaluated by the British Taekwondo Selection Committee."
The statement continued: "Once the OQS Panel has had an opportunity to ask further questions of and receive additional information from the British Taekwondo Selection Committee, it will be in a position to act upon the nomination."
Panel member Hunt said: "Through the review process, the Panel also seeks to make certain athlete selection is conducted in a manner that is impartial and consistent with the approved procedures."
Reacting to the findings of the OQS panel Cook tweeted; "Encouraging news reports. Thank you to the BOA, I await further news. The dream is still alive..."
GB Taekwondo have since stated on their website that they will continue to work with the BOA to finalise the -80kg Olympic place, 'in the interests of the athletes concerned and the wider team'.
"Competition for places has never been as strong as it is now within our sport and the challenges around selection reflect this," read the statement.
"We maintain that the overriding aim of the selection panel has been to select athletes who provide the Great Britain Taekwondo team the optimal chance of winning the best set of medals at the Games this summer."
Cook confirmed on Monday that he "could not believe" the decision to select world number 93 Muhammad, when he was informed on 11 May.
He subsequently asked for BOA help after previous appeals to the sport's governing body had failed.
The Dorset-born fighter quit the GB programme after becoming frustrated by the 'negative' tactics he felt he was being forced to adopt and which Cook attributed his his embarrassing elimination at the 2011 World Championships in South Korea.
"I left British Taekwondo's World Class Performance Programme (WCPP) because I felt that their methods were wrong for me. I was not achieving my potential," said Cook.
"Twelve months after backing myself and creating my own team as a result of the financial backing of my personal sponsors, the results show that I was 100 per cent right."
Calls for Cook's inclusion have certainly been strong outside of the sport.
Sir Steve Redgrave described him as "the only choice" and an online petition was also created by supporters of Cook's Olympic bid.
Cook's pre-Beijing mentor Sir Matthew Pinsent added: "There seems to be no doubt that Aaron Cook has fallen victim to small-time sports politics - come off it, Team GB demands better."
11-time Paralympic champion Tanni Grey-Thompson tweeted: "I don't generally believe that NGB [National Governing Bodies] should have to justify but in this case it needs to be looked at."
Former team-mate John Cullen also suggested not selecting Cook would be the equivalent of "Barcelona dropping Lionel Messi."
-87kg European Champion Muhammad has remained relatively quiet on social networking site Twitter since news broke of his nomination by GB Taekwondo, although he re-tweeted a Muhammad Ali quote earlier on Tuesday.
"It's lack of faith that makes people afraid of meeting challenges, and I believed in myself - Muhammad Ali."
The BOA did confirm that they have formally accepted the athlete nominations submitted by British Taekwondo in the Women's Under-57 kg and Under-67 kg weight categories, and in the Men's Under-68 kg weight categories.
It is widely expected that Jade Jones, Sarah Stevenson and Martin Stamper will fill these respective divisions for Team GB at the London 2012 Olympics.