GB basketball men 'should target top eight' - Oscar Schmidt
Last updated on .From the section Olympics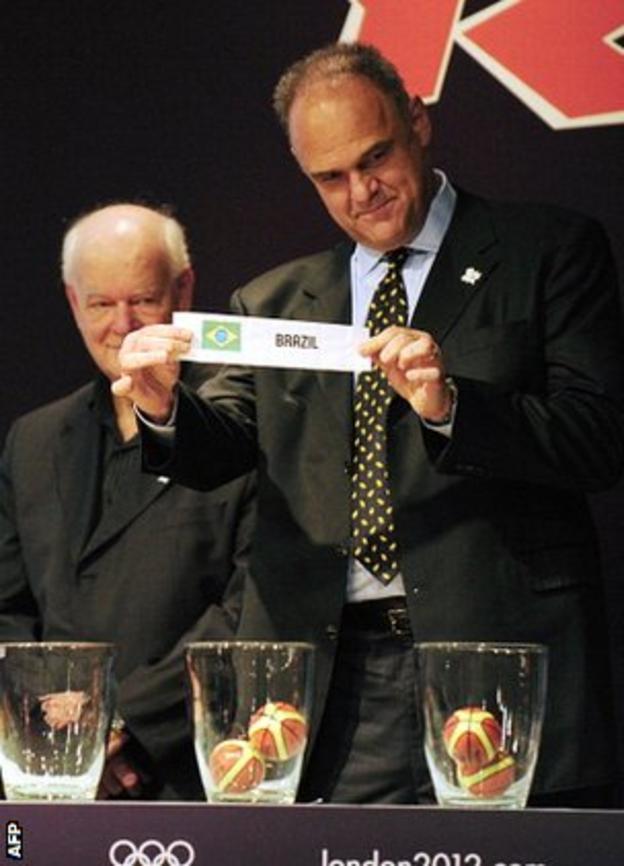 Britain's men should target a place in the quarter-finals of the Olympic basketball competition, says Brazil legend Oscar Schmidt.
Team GB face Australia, Brazil, China, Spain and a qualifier in their group.
"I think they can do well - but it's hard for a first-time team to take a medal," said Schmidt, who played in five Olympics and top-scored in three.
"If they make it into the top eight teams, that would be a tremendous result for them - I hope they do that."
Schmidt, 54, was one of the special guests at the Olympic draw in Rio de Janeiro, and responsible for drawing the ball that meant Brazil would play Great Britain in London.
"I remember coming to England and Scotland and playing there when I was just 16 or 17 years old," he told BBC Sport. "We played like five or six games and it was a wonderful experience for a young player to have."
Schmidt was nothing less than a scoring machine. He scored a total of 1,095 points in the 38 games he played in the Olympics, averaging nearly 29 points per outing.
His 340-point haul in just eight games in the Seoul tournament is a near-superhuman feat in basketball terms. His nickname in Brazil is Mao Santa (holy hand).
He was top scorer in the 1988, 1992 and 1996 events, including when the US Dream Team - rated the greatest basketball unit ever assembled - stormed to the gold medal in the 1992 Olympics.
"The first Dream Team, well, there weren't any real games, because that was the best team I'd ever seen playing," he said. Schmidt scored 24 against them in Brazil's 127-83 defeat.
Clyde Drexler, who played for the US in that game, acknowledged Schmidt's talent.
"Oscar was a good professional, we knew what he was capable of doing," he said. "We respected him, we just wanted to make sure he didn't do it against us."
Schmidt was often derided for not putting as much effort into his defensive duties as his offensive ones, but was generally forgiven for it because his was such a precious scoring talent, honed by long hours of training.
"I was focused - if anything I practised too much," said Schmidt. "The way I played brought me to all those records, it wasn't that I looked for it."
He scored nearly 50,000 points in a professional career that spanned 29 years and led all scorers in every league he played in.
A former Yugoslav international detailed to mark him once reeled off a list of tactics - most of them illegal off the basketball court as well as on it - he would employ to stop Oscar Schmidt from scoring, ending with a smile and the flat statement: "But still he scores 40 points."
"Sometimes it went well, sometimes not, but I always did my best," said Schmidt. "And I'm very happy about it."
He played in Brazil, Italy and Spain but never joined the NBA because he was worried it might have prevented him playing internationally for Brazil.
But although his Brazil teams never got beyond the quarter-finals, it was the Olympics that Schmidt was best known for.
"The first one is always special," he said when asked to compare the tournaments he played in. "The one I played best in was Seoul - the percentage the team was shooting, we should have won a medal and we could have won the Olympics.
"We had a tremendous game against the Soviet Union - we lost by two points and I missed the last shot. If we'd won that we could have gone for a medal. But that's what sport is like - and that last shot stuck in my mind for many years."