London 2012: Aya Medany struggles with sport & religion
By Ollie Williams
BBC Olympic sports reporter
Last updated on .From the section Olympics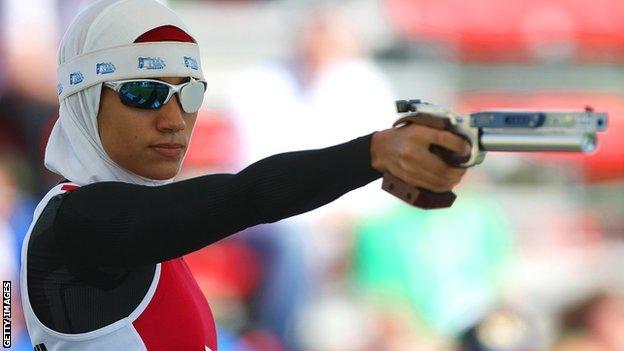 Aya Medany is surprisingly young to be preparing for her third Olympic Games - and considering retirement.
Medany, not yet 24, is a modern pentathlete who made her debut for Egypt at the Athens Olympics in 2004, aged just 15.
Her sport demands that she fence, swim, ride horses, run and shoot. Her beliefs demand that she do it wearing specific clothing.
Medany, the only elite pentathlete to compete wearing a hijab, now thinks she may have to quit because of the conflict between her religion and her sport.
"I might have to choose after London 2012. I might have to leave," she tells BBC Sport after this year's World Championships in Rome, where she finished 12th.
The problem is not the hijab, even though Medany says it puts her at a disadvantage when running.
Swimming is the issue - Medany wants to swim in an outfit which fully covers her body in order to conform with her interpretation of her Muslim faith, which emphasises modesty in dress.
However, the UIPM - modern pentathlon's world governing body - will not let that happen.
Pentathlon takes its cue from Fina, the organisation which runs world swimming. Fina's rules, amended in 2009 after outcry over 'super-fast' full-body swimsuits, state that swimwear for female competitors "shall not cover the neck, extend past the shoulder, nor extend below the knee". Hence, Medany has to obey those rules.
That puts her in an awkward position regarding the media back home in Egypt and her public portrayal. But the UIPM told BBC Sport it cannot make exceptions for one athlete, even a woman it acknowledges has single-handedly established pentathlon on the African continent.
Medany's is a complex case. She only took up wearing a hijab following the 2008 Beijing Games, and her relationship with reporters in her home country has been uneasy.
Egypt is a country of few genuine Olympic contenders, but Medany went to Beijing with a real chance of a medal. Come the women's pentathlon, on the last day of the Games, Egypt had just one other medal: a bronze won by Hesham Mesbah in men's judo.
"By the time of Beijing, I had won world junior titles. People in Egypt knew about pentathlon and knew my name," recalls Medany.
"They said, 'OK, for sure she will get a medal. Aya Medany is our last hope.' All the media was on my head, and in Egypt they were all talking about me. 'If she wins, she'll get this and this, she'll be the first woman in Egypt to do that.'"
On the day, Medany could not live up to the hype.
"I don't know what to say, except that there can't be anything worse than Beijing," she says, with a dry laugh.
"The fencing and swimming was OK but the horses [which are assigned randomly to athletes] weren't very good for the riding. Mine knocked too many fences down - he needed strong hands and I was 19 years old, I didn't have strong hands. I finished eighth."
Did the media understand?
"No. The media… I'm sorry," she looks at our microphone and laughs, "the media really don't know what the athletes feel. They don't know my sport. They put everything on the riding being bad, and me needing an improvement in riding. It wasn't really my fault."
Since Beijing, Medany's quest to wear the clothing she wants during her events has helped to appease journalists at home. Medany is again a face of the Olympics in Egypt this year, but two new obstacles have emerged in the intervening years.
The first was the 2011 revolution in Egypt, embodied in vast rallies in the capital's Tahrir Square. Medany watched on TV at home - "my family didn't agree with letting me be there, and I live a 45-minute drive away" - knowing the upheaval had a direct impact on her Olympic hopes.
Modern pentathlon had been due to stage two major events in Egypt that year, including the 2011 World Championships. But demonstrations continued throughout the year, and the venues were duly switched.
Though she knows her fate pales in comparison to wider changes afoot, she lost valuable training time and a vital chance to compete on home soil. Moreover, a government in turmoil had little time to worry about modern pentathletes.
"The sport hasn't got good funding and now we have a lot of problems, especially after the revolution," she says. "We can't even talk, we don't know what to do, although at least until now they have let us travel."
The second demon is injury.
"I have a lot of pain in the joints around my hip. I have a problem with the nerve and the muscles around it," she says. "The muscles are pushing the nerve hard, so I'm having physiotherapy to help me train normally and not feel the pain."
While Medany contemplates walking away from her sport after London 2012, if she cannot keep her injury at bay, she faces limping off the scene before August.
"I don't want to say 'if' about the Olympics. We don't like to say 'if'. This is my situation now, and to solve this problem I have to work on it," she insists.
"There is no if, if, if. Hopefully in London it will be OK."