BOA may reject GB Taekwondo's Aaron Cook non-selection
By Nick Hope
BBC Olympic sports reporter
Last updated on .From the section Olympics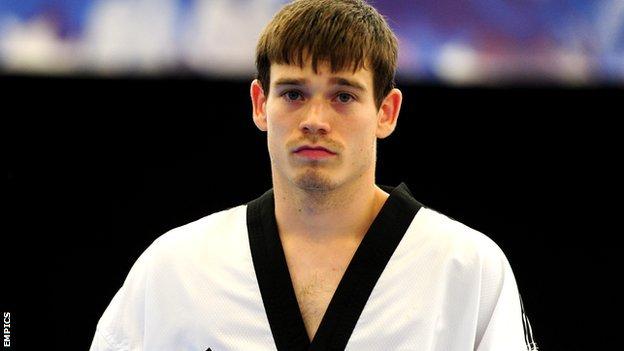 The British Olympic Association (BOA) is "not afraid" to overturn GB Taekwondo's nomination of Lutalo Muhammad ahead of European champion Aaron Cook for London 2012.
"We do have a right to reject a nomination," BOA chief executive Andy Hunt told BBC Sport.
The BOA has scheduled a meeting with GB Taekwondo for Thursday, having refused to ratify their selection.
A BOA panel requires clarification of GB Taekwondo's selection process.
"We are meeting the selection panel from GB Taekwondo [on Thursday] morning that undertook the second selection. There are a number of questions that we have around both the process and some of the elements that they looked at in coming to their decision," Hunt elaborated.
"We will come to a decision as to whether we can ratify the nomination they have made or indeed reject the nomination."
Cook confirmed on Monday that he "could not believe" the decision to select world number 93 Muhammad when he was informed on 11 May.
He subsequently asked for BOA help after previous appeals to the sport's governing body had failed.
Hunt was clear what powers are available to the BOA, should they wish to use them.
"Let's not hypothesise, but we do have a right to reject a nomination in exceptional circumstances," he said. "It's never been done before but I'm not worried about that. We will always do the right thing by any athlete.
"If we reject the nomination it would be put back to GB Taekwondo to then meet again as a selection panel and nominate another athlete."