London 2012: BOA rejects GB Taekwondo's athlete nomination
By Nick Hope
BBC Olympic sports reporter
Last updated on .From the section Olympics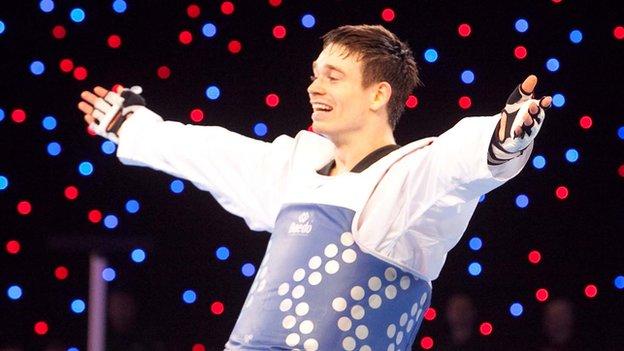 European champion Aaron Cook has edged closer to competing at London 2012 after the British Olympic Association (BOA) vetoed GB Taekwondo's nomination of Lutalo Muhammad.
The historic ruling means the sport must now reconvene at the "earliest opportunity" to review the selection.
Cook, 21, was initially selected as reserve fighter for the Olympics.
GB Taekwondo confirmed on Friday that it will not appeal against the BOA decision.
"We have two world-class athletes in contention, both European champions (at different weights)," said a GB Taekwondo statement.
"One has just been announced as number one ranked athlete and another has just risen to number seven in the rankings. They have fought each other twice this year, each winning one fight."
Cook is not yet clear to be nominated - the most likely outcome is that GB Taekwondo will accept the BOA's four key recommendations for a revised selection panel meeting and look to carry out that meeting early next week.
As such they could still potentially rule in favour of Muhammad.
GB Taekwondo are hoping to have the process concluded by the middle of next week.
"It was the unanimous decision of the panel that it could not ratify the nomination," read a BOA statement.
The four-strong Olympic Qualification Standards (OQS) panel, which included Team GB chiefs Andy Hunt and Sir Clive Woodward, ruled that GB Taekwondo had placed a "disproportionate amount of emphasis" on certain selection criteria when nominating Muhammad.
Cook greeted the news of the BOA's actions by tweeting: "Thank you to the BOA.
"Thanks also to all the public, fellow athletes and legends for your support. If given the chance, I will make GB proud."
GB Taekwondo secured four medals including gold for Sarah Stevenson at the 2011 World Championships in South Korea and experienced their most successful European Championships of all-time in early May this year.
"These nominations are not taken lightly, nor can they afford to be," continued the statement.
"The Great Britain taekwondo team has taken great strides since Beijing 2008 and is now recognised as a global force in the sport."
Last week, Cook's former team-mate John Cullen insisted that the fighter "must go" to the London Olympics and he said he was pleased with the outcome of the OQS panel's deliberations.
"I'm proud of the BOA for being strong enough to make the decision and for looking into the entire selection process," Cullen told BBC Sport.
"[GB Taekwondo] overstepped their remit here. A lot of questions need to be answered and I think a public review is needed because this is not the way to run a publicly funded sport.
"I'm overjoyed for Aaron that sporting justice has been served."
Cook who said he "could not believe" the initial decision to list him as a reserve fighter, has received significant backing over the last week.
Former Olympic and Paralympic champions Sir Matthew Pinsent and Dame Tanni Grey-Thompson both tweeted messages of support, while diver Tom Daley added: "GB needs you! #aaron4teamGB!"
Should Dorset-born Cook be nominated for the -80kg division Olympic selection then -87kg European Champion Muhammad is likely to be knocked down to being a London 2012 reserve fighter.
Cullen added: "I feel sad for Lutalo, who's done nothing wrong.
"He's a great fighter and hopefully his day will come."