London 2012: How to pick the best Olympic squad
Last updated on .From the section World Olympic Dreams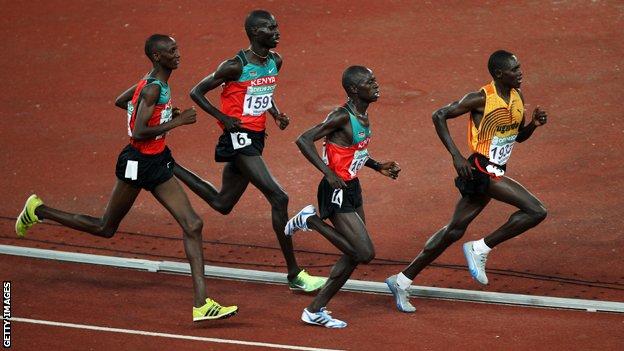 Thousands of Olympic hopefuls have qualified for the Games but are still waiting to be selected by their country - a polemic process, as Ben Oakley from the Open University discovers.
Spectators at an athletics meeting in Oregon this weekend will witness an experiment in Kenyan athletics.
Rather than hold trials for its 10,000m men's team at home, Kenya will select its squad at a bespoke race at the Diamond League meeting in Eugene on Saturday.
Kenya is world famous for its long distance runners but no Kenyan man has won an Olympic 10,000m gold medal since Naftali Temu in 1968.
A total of 44 Kenyan men ran the 10,000m Olympic qualification time for this summer's Games and a series of selection events whittled that field down to 15 although only three can be chosen for London.
The Kenyan athletics federation asked to hold its own selection race at the Eugene Diamond League.
The usual selection criteria of two across the line and third wild card choice will be used.
"I don't think there is any problem," Athletics Kenya Olympic team manager Joseph Kinyua said of the decision to move the trial to America.
"If you're doing one thing again and again and it doesn't give you the result you expect, it is only fair that you try a different method."
How does qualifying work?
To qualify, athletes in whatever event they compete in must first meet the Olympic standard time in their event and must also be selected for their national team.
The ideal team selection process should have several criteria.
It should recognise athletes who have proven performances at international level whilst also taking into account new, young rising stars and should be fair and transparent while it should also seek to recreate environmental conditions in London and match the pressure of an Olympic Games.
When should you select your chosen Olympic representative?
The two ends of the scale are selection almost 12 months in advance or as close to the Games as possible.
By selecting a year in advance, athletes can maximise the time they spend preparing and adapting to the environmental conditions - this often happens in the Olympic sailing events for example.
On the whole, athletics selectors believe that peaking for a trial event three to four weeks before the Olympics, ensures that athletes remain in top physical condition.
How should national teams select their squad?
You could take the top three athletes, as ranked by the sport's world rankings at a set date.
This certainly rewards long-term international consistency, but may miss a fast, new athlete surging up the ranking lists or someone in spectacular form.
It also does not consider environmental conditions for the Games nor does it replicate the intense pressure of peak performance at a single event.
How about a single trial race scheduled at a carefully chosen date?
Surely, if an athlete can perform under the heavy pressure of a trials event, then they can certainly perform at the Games. Plus, the location of the venue can also be used to test athletes' response to environmental conditions.
According to Ricky Simms, manager of seven of the 15 Kenyan trialists, "The Olympic Games in London will take place at sea level and therefore it makes sense to select the best team for a sea level race.
"Nairobi is at altitude and some runners perform differently at altitude compared to sea level. Having the trial in Eugene should select the best team for London."
A single trial, with all its pressure, sounds good on the surface, but there are still three questions.
What if a top athlete is ill? Carl Lewis's sinus infection during the US trials in 1992 prevented him from qualifying for the 100m in Barcelona.
Similarly, Sebastian Coe missed the 1988 Olympics because he was suffering from a chest infection during Britain's 1,500m Olympic trial. Given his Indian heritage, Coe was offered the chance to compete for India but he declined.
What if a mechanical breakdown occurs in equipment? Or, for conspiracy theorists, what about collusion and sabotage?
These factors all represent a risk to selectors. If they try to retrospectively mitigate this risk after the event by citing how 'exceptional circumstances' influenced a result, it can often end in the law courts.
Mixing it up
Most often, a selection panel uses a set of published criteria including world ranking, times, performance in major events and potential for the future.
They also use a series of selection events which allows athletes to overcome a single disappointing race but it can complicate matters when there is no clear-cut winner.
For example, which is better, a fourth place in a World Championship event or a first place in the European Championships?
Ultimately selection is a compromise with no perfect solution.