London 2012: Olympic sailing venue set for final dress rehearsal
Last updated on .From the section Olympics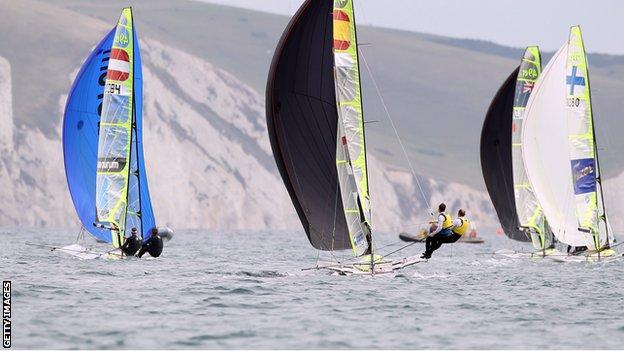 The 2012 Olympic and Paralympic sailing venue will be put through its paces for the final time next week as it hosts the Skandia Sail for Gold Regatta.
Seven hundred of the world's top sailors will descend on Weymouth for the event, which runs from 4-9 June.
The event is the penultimate leg of the ISAF Sailing World Cup series.
"It is going to be one of, if not the most competitive ISAF World Cup regatta this year," said British team manager Stephen Park.
"Naturally we would expect that all of the competitors who'll be taking part in the Games will be racing here. We know that a number of countries will be using this event as their final selection event for their teams.
"Whatever the outcome this week, we won't be getting carried away. We're focused on the end game of the Olympics," he added.
Team GB will have 65 sailors competing across the 10 Olympic and three Paralympic classes, including three-time gold medallist Ben Ainslie and world 470 champions Hannah Mills and Saskia Clark.
Olympic Laser champion Paul Goodison, Beijing bronze-medallist windsurfer Bryony Shaw and Athens bronze-medallist windsurfer Nick Dempsey will also be in action.