London 2012: Jo Pavey runs 10,000m Olympic qualifying time
Last updated on .From the section Olympics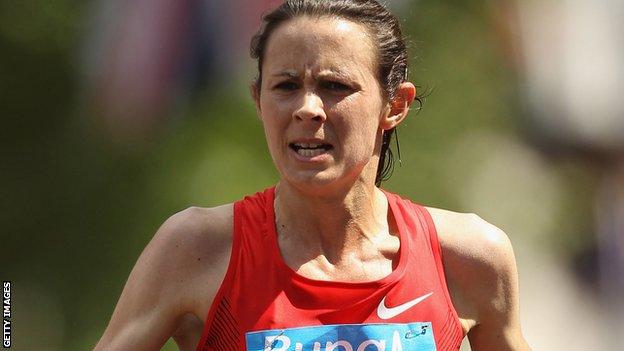 Jo Pavey ran the 10,000m qualifying time for the 2012 Olympics as she came second in the European Cup.
The former 5,000m Commonwealth Games silver medallist clocked a season's best 31 minutes 32.22 seconds as she finished behind Portuguese winner Sara Moreira.
Pavey's run was her quickest 10,000m in four years and her time is second in the 2012 British rankings to Julia Bleasdale's 31:29.57.
Charlotte Purdue finished seventh and Gemma Steel ninth as Britain won the team competition in Bilbao.
However, their times were well short of the Olympic qualifying standard.
Leading & British results
MEN
1. Polat Kemboi Arikan TUR 27:56.28
2. Ayad Lamdassem ESP 28:04.22
3. Carles Castillejo ESP 28:07.50
18. John Beattie GBR 29:49.59
20. James Walsh GBR 29:53.44
Did not finish - Keith Gerrard GBR
WOMEN
1. Sara Moreira POR 31:23.51
2. Jo Pavey GBR 31:32.22
3. Christelle Daunay FRA 31:35.81
7. Charlotte Purdue GBR 32:18.44
9. Gemma Steel GBR 32:34.81
14. Hannah Walker GBR 33:10.95
15. Sonia Samuels GBR 33:11.53
19. Freya Murray GBR 33:16.13