London 2012: Archer Alison Williamson equals Games record
Last updated on .From the section Olympics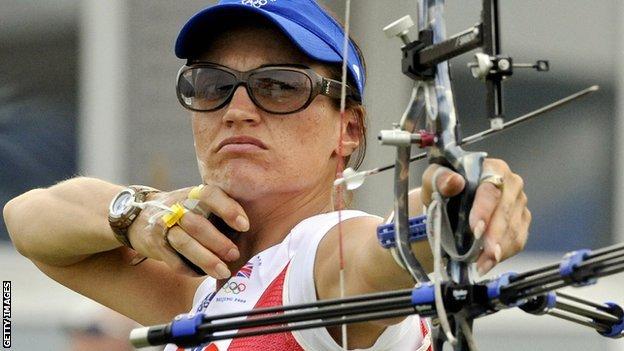 When archer Alison Williamson competed at her first Olympic Games, John Major was prime minister and Simply Red were regulars in the UK music charts.
That was 20 years ago, when a fresh-faced Williamson shot her first arrow in an Olympic competition at the Barcelona Games of 1992.
Now 40, Williamson has been selected for the London Olympics to represent Great Britain at a sixth consecutive Games. Only two other Britons - athlete Tessa Sanderson and fencer Bill Hoskyns - have managed such a feat in the summer Olympics.
"Sometimes I think I'm old," Williamson told BBC Sport. "I've improved in the way I handle the pressure. I'm more relaxed and enjoy it more.
"I appreciate now that I'm very fortunate to be in this position. I'm very lucky. Not everyone gets the chances I have."
It could be said Williamson was destined to be an archer. Her father Tom is president of the national governing body, Archery GB, while her mother Sue is a respected coach.
She got a feel for the sport at an early age, winning a silver medal at just 10 years old at the 1981 Wenlock Olympian Games, the event thought to be the original inspiration for the modern Olympics.
With Olympic archery seemingly her destiny, Williamson's first three trips to the Games were nevertheless rather unremarkable. The Shropshire archer finished eighth in the individual competition at the Barcelona Games, 10th at Atlanta 1996 and ninth at Sydney 2000.
Then, success: a bronze medal in Athens in 2004, Williamson's fourth Games, after a nail-biting match with Sun Chi Yuan of Chinese Taipei.
"I can understand when people talk about winning a medal as a relief," she said.
"You dream of it and you plan for it, but for it to become reality... It was very close. I had to wait and watch my competitor shoot the last arrow.
"I was preparing my 'I came fourth' speech. When I realised I had won the medal, phew, it was a big relief."
If 2004 was the peak of her career, Williamson's fifth Games in Beijing was a low. Way off the medals in the individual event, she and her two team-mates, Naomi Folkard and Charlotte Burgess, lost the bronze medal in the team event by one point.
Williamson blamed herself.
"I felt I should have done better," she said.
"I did genuinely feel that at the time. I was the most experienced on the team. I've talked to a number of people about this and realised that you do your best on the day."
In archery, the margin for error is always minute. Too sharp a breath could sway your arrow off course by millimetres and lose you a game.
"It's probably hard for someone who hasn't shot to understand the intensity of what's happening.
"It's trying to clear all the distractions in your head and really focus on executing that good shot.
"I have different strategies - sometimes it might be singing, sometimes it might be counting backwards in sevens from 100. Usually I have a script and say key words every time I shoot."
While nations such as Korea continue to dominate the sport - they won more archery medals than any other nation in Beijing - Williamson remains undeterred.
"The levels these days are so high, so everybody is training harder. The gap between the top 64 is narrower, so on the day it's a really tight field.
"I think everyone comes [to the Olympics] thinking they've got a shot at it. People come with a dream and it's standing on top of the podium."